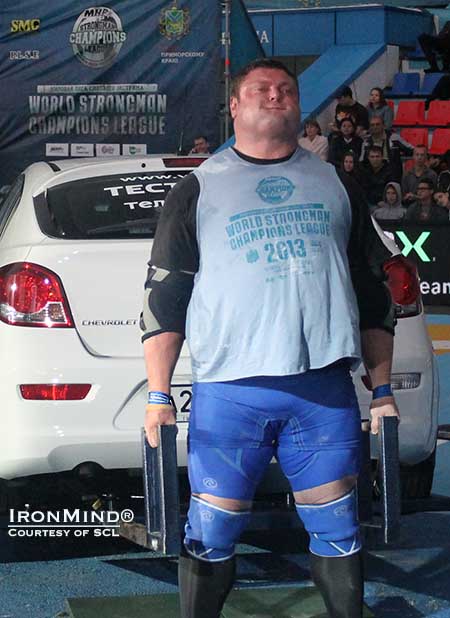 Zydrunas Savickas won the Car Deadlift for Reps, as well as the overall title, at the 2013 SCL–Russia competition held this weekend in Vladivostok.  IronMind® | Courtesy of SCL.
The MHP Strongman Champions League Russia competition was held on Saturday in Vladivostok, "located at the far east eastern edge of Russian, close to China and North Korea," SCL cofounder Ilkka Kinnunen told IronMind.
The competition day was partly cloudy and the temperature was around +17 C [about 63 F], which made a perfect conditions for the athletes competing in the outdoor event.
Once again the stands were full, with approximately 5,000 spectators and the screaming was loud when the giant strongmen stepped into the arena.
A total of 10 athlete, including Big Z [Zydrunas Savickas], Thor [Hafthor Julius Bjornsson], Mike Burke, Krzysztof Radzikowski, Ervin Katona. Misha Koklayev was also on the start list, but he has not recovered from his injury at World's Strongest Man and could not take part, so this time Misha took care of the presenter's job.
A total of six tough events. Also once again we saw a new world record which came immediately in the first event: Weight for Height. The last record was done by Misha Koklayev in Giants Live competition in 2010 5.81m now at the end two men first raised the bar to 5.82 m. Mike Burke was first to break the old record and right after, Thor through the same. Then these two giants put the bar up to 5.90 m and Thor did an easy throw over it. What happened next ws that Thor said that is not enough, so the so bar was put up to 6 m. and he did the height easily. What a start for the competition!!!
The second event was the Yoke race: 25 m and a weight of 400 kg. Two man battled side by side, Big Z and the young new talent from Russia, Alexander Lysenko. Lysenko came first over the finishing line with a time of 12.48 seconds and Big Z was second with 12.59 seconds.
The third event was the Dumbbell Press, 100 and 120 kg; the athelete could choose, which one to use. Also in this event, two men were above others: Mike Burke and Krzyzstof Radzkowski. Both did and amazing 5 reps with 120 kg.
The fourth event was the Deadlift for Reps with 360 kg and Big Z showed his back power and did 18 reps in 60 seconds. Krzysztof was second with 15.
The fifth event was the Forward Hold with 30 kg. Mike Burke, in the second time in competition that he has done the event, came in first place with a time of 55.25 seconds. Big Z was second, with a time of 46.80 seconds.
The last event was Barrel Loading, 4 x 80 kg 10 m distance for each. Mike Burke was fastest with a time of 25.28 seconds. Second was Thor with a time of 26.27 seconds.
"SCL wants to thank SMG for organizing once again a excellent competition. Special thanks to P.L.S.E for helping out. We will be back in 2014, even bigger," said Kinnunen.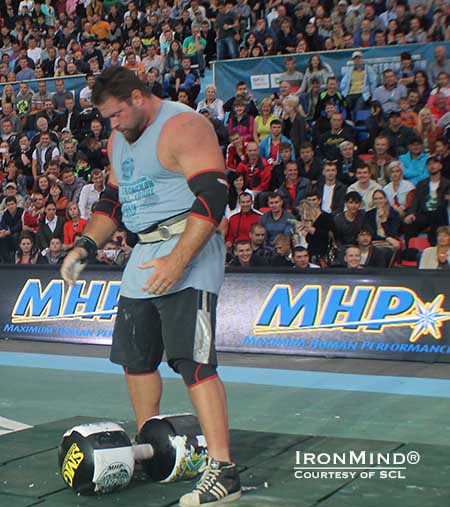 Coming off his strong performance at the World's Strongest Man contest last month, Mike Burke beat everyone but Zydrunas Savickas at the 2013 MHP Strongman Champions League–Russia competition.  IronMind® | Image courtesy of SCL
Overall results:
Zydrunas Savickas

51.0

Mike Burke

47.5

Hafthor Julius Björnsson

43.5

Krzysztof Radzikowski

40.5

Alexander Lysenko

38.0

Didzis Zarinis

24.0

Anti Mourujärvi

24.0

Lauri Nämi

22.5

Vladimir Kalinichenko

17.0

Ervin Katona

12.0
Follow this link for a pre-trailer of SCL–Russia 2013.
by Randall J. Strossen, Ph.D. | ©2013 IronMind