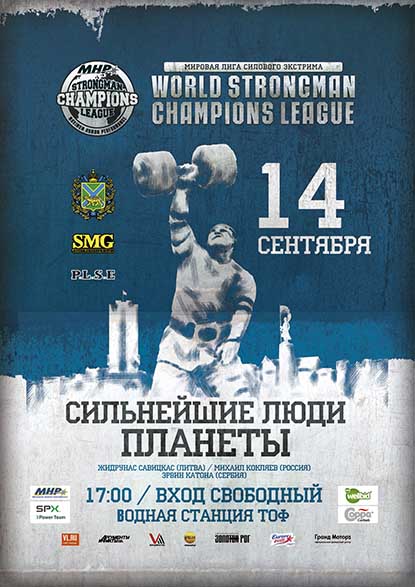 If you're in Vladivostok, Russia this weekend, you will have a chance to see MHP Strongman Champions League in person.  IronMind® | Courtesy of SCL
The next stop of the MHP Strongman Champions League will be in Vladivostok, Russia—which is a 9-1/2 hour flight from Moscow, on the sea of Japan.
"It is a very busy schedule at the moment for our league, organization and athletes," Marcel Mostert told IronMind and SCL has been rolling from one contest to another on consecutive weekends across Europe—delivering TV shows and adding sponsors along the way.
"he 11th stage in Russia will be followed up this month by Poland and Gibraltar.
We're back for the second time in Vladivostok, together with some big champions and the best strongman in the world, Zydrunas Savickas.
Misha Koklyaev will be the MC there, because he has ripped his triceps last month. He was originally on the list to compete of course.
But together with Zydrunas, we also have 'Thor' from Iceland, Mike Burke from the USA, Ervin Katona and the SCL leader Krzysztof Radzikowski, from Poland.
The events will be:
Weight for Height
Yoke Race
Medley
Deadlift
Forward Hold
Dumbbell Press
And here is the list of athletes:
Zydrunas Savickas (Lithuania)
Krysztof Radzikowski (Poland)
Ervin Katona (Serbia)
Lauri Nami (Estonia)
Didzis Zarins (Latvia)
Bjorn Andre Solvang (Norway)
Halfthor Julius Bjornsson (Iceland)
Mike Burke (USA)
Antti Mourujarvi (Finland)
Didzis (Latvia)
G.Kalichenko (Russia)
Alexander Lysenko (Russia)
"Meantime, while we are in Russia, you can see the first broadcast of the SCL Portugal on Eurosport on Thursday 12 September at 21.00 hours and a replay at Friday 13th at 19.00 Hours on Eurosport 2," said Mostert.
by Randall J. Strossen, Ph.D. | ©2013 IronMind