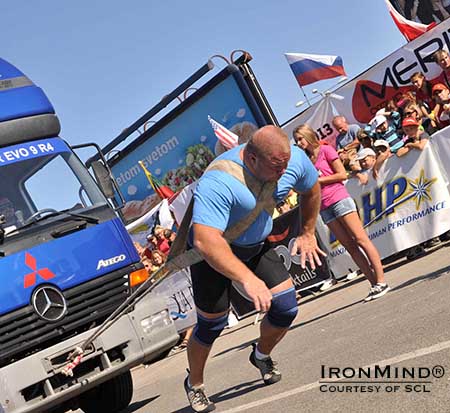 Lauri Nami won the MHP Strongman Champions League competition in  Kosice, Slovakia this weekend-the first time the Estonian strongman has won an SCL stage.  IronMind® | Courtesy of SCL
"For his first time ever, Lauri Nami (Estonia), won a  MHP Strongman Champions League stage," Marcel Mostert told IronMind today.
He was very happy with it, especially after beating Krzyzstof Radzikowski in the last event with 0.10 seconds difference: Lauri was a half point behind Krzysztof before they started the Atlas Stones. The only thing he had to do was win the Atlas Stones to beat the strong Pole and to keep Martin Wildauer behind as well. In an exciting final he was the fastest in the Stones.
"Vidas Blekaitis from Lithuania and Ervin Katona from Serbia became 4th and 5th overall. They all could have won the MHP Strongman Champions League Slovakia in the last event, but Lauri Nami did, and took his first SCL title home. "Krzystof is still the 'SCL Leader' with 11 points ahead of Ervin Katona.," said Mostert.
Offical Results
Lauri Nami (Estonia)

58.5

Krzysztof Radzikowski (Poland)

58.0

Martin Wildauer (Austria)

54.0

Vidas Blekaitis (Lithuania)

52.5

Ervin Katona (Serbia)

42.0

Dainis Zageris (Latvia)

26.5

Gregor Stegnar (Slovenia)

24.5

Akos Nagy (Hungary)

23.5

Peter Puzser (Slovakia)

23.5

Lukas Svoboda (Czech)

17.0
The next stage in the 2013 SCL strongman series will be in Russia, this coming weekend.
by Randall J. Strossen, Ph.D. | ©2013 IronMind