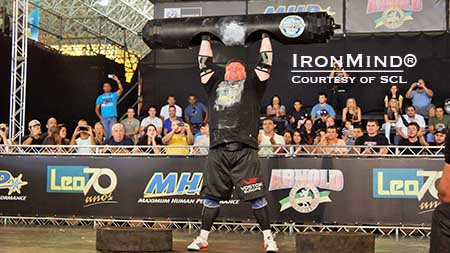 Zydrunas Savickas continued his domination of the Log Lift with this 223-kg success, for a new world record.  IronMind® | Courtesy of SCL
Ilkka Kinnunen called the action from the Arnold Brazil for IronMind, where Zydrunas Savickas set a new world record in the Log Lift.
"Big Z hits again, winning the MHP SCL 'Brutal Edition' at  the Arnold Classic Brazil on Saturday. There were total of 3 heavy events and athlete list was tough. This was no fear in the Big Z. He won first 2 events and was 2nd in 3rd.
"The first event in competition was Log for Max. Excellent lifts from Thor, Burke who came equal 3rd with 190kg, 2nd Brian Shaw 192,5kg and winner Big Z with NEW WORLD RECORD 223kg!!!! The lift was so easy for Z, that it won't take long before he hits that 500 lb, no question about that.
"Second event Deadlift with 360kg for reps. Top 3 in this were Thor and Brian equal 9 reps and winner again Big Z with 10 reps. Big Z did all 10 reps in only 30 sec.
"The last event of the day Atlas Stones. 6 stones from 120-180kg. From top 3 Thor went first he hitted clock on time 22.69sec. That was 10 sec faster than anyone before Thor. Two athletes left Brian and Z. Brian put all his power in and what an amazing time 19,05 seconds !!!. Zydrunas needed at least time what puts him on 3rd, but he was ready and did 2nd fastest time 21.84sec.
"The competition and the EXPO itself was a big success total over 100.\,000 people in 3 days. The MHP SCL Arnold was televised by GLOBO TV which is the biggest channel in Brazil.
Overall Results:
ZYDRUNAS SAVICKAS
BRIAN SHAW
THOR BJÖRNSSON
LAURI NAMI
ERVIN KATONA
MIKE BURKE (back injury)
MARCOS FERRARI
KRYZSTOF RADZIKOWSKI (tricep injury)
DAINIS ZAGERIS (bicep injury)
"On Saturday evening athletes had one more event between the Pro body-building and Pro Fitness. The Giant Dumbbell Challenge: 95 kg Huge Dumbbell lifted from the ground in 75 seconds. The rule also is that if there is a tie, then the fastest time wins.
"From top results in Dumbbell Big Z did 10 reps coming 4th. Mike Burke with an excellent 12 reps raised him to 3rd place. Brian Shaw with 13 reps, but slower time (75 sec) got 2nd place and the winner also 13 reps but done in 72 sec. was the giant from Iceland, Thor Björnsson.
"Amazing finish for the 2014 Arnold Classic in Brazil. Next the MHP SCL continues the serie in Serbia 10th of May, so stay tuned," said Kinnunen.
by Randall J. Strossen, Ph.D. | ©2014 IronMind