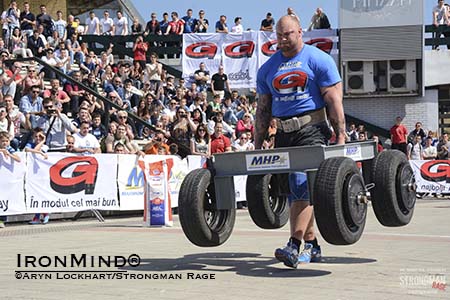 Hafthor Julius Bjornsson on the Frame Carry at the MHP Strongman Champions League–Serbia, where he motored to victory.  IronMind® | Courtesy of Aryn Lockhart/Strongman Rage
Ervin Katona continued to shine at his home contest, but this weekend there was one man he could not beat: Hafthor Julius Björnsson.
THOR Wins MHP Strongman Champions League Serbia!
By Aryn Lockhart/Strongman Rage
On Saturday with cloudless skies, warm temperatures and over thousands of  spectators, the stage was set for the third stop on the MHP Strongman Champions League series in Serbia. Hosted by Ervin Katona in Novi Sad, the competition consisted of six events: hand over hand, Viking press, frame carry, front hold, car deadlift, and loading.  The crowd brought additional energy and intensity throughout the day cheering wildly as they witnessed a new world record in the Viking press and a head to head battle with Thor Björnsson edging ahead of Ervin Katona for the win.
Katona is known for organizing heavy events and started the day with hand over hand with a ten ton truck for 20 meters (65.6ft). What made this event particularly hard was the thick rope challenging athletes' grip strength. Thor was first to complete the event with 32.23 seconds. Daniel Wildt from Germany took second place with 37.5 seconds.
Event two was the Viking press with 165 kg (363lbs). This event brought tremendous excitement as the lightest and the smallest athlete, Björn Solvang from Norway, won the event and broke a new world record with an astounding 14 reps. The previous record of 13 reps was held by Katona.
The third event was the frame carry. With a weight of 360kg (792lbs), the grip from this particular frame left many athletes struggling to carry the frame even for a few short meters. Only three athletes were able to complete the entire 40 meter (131.2ft) course. Thor won this event using his long legs to his advantage completing the course in only 24.16 seconds.
The front hold was up next with 30kg (66lbs) in each hand. With his incredible shoulder strength, Katona won this event launching him into first place with only two events remaining.
The fifth event was the car deadlift with a weight of 360kg (792lbs). Martin Wildauer from Austria is often the favorite in this event, but was working through a minor back injury. As a result, Thor won the event with nine reps and Wildauer took second with eight.
The sixth and final event was loading three 120kg (264lb) sacks onto a platform. With lightning speed, Thor completed this event with only 19.78 seconds. He was over three seconds faster than Lauri Nami who came in second.
When the day was done and the dust settled, Björnsson took first place, Katona second, and Wilduaer third. "I was very happy with the competition," stated Katona. "The crowd was great and brought a lot energy." Katona still holds the leader shirt but his competition is fast approaching. With Wildauer taking second in Germany and now third in Serbia, his is right on Katona's heels.
The next event is in Finland on 14 and 15 June. To find all of the events visit www.strongmancl.com under Agenda. The FIBO from Germany will be televised on Eurosport 23 May and Serbia will hit Eurosport on 20 June. The competition is just starting to get warmed up!
Final Serbia Standings top 8
Thor Björnsson (Iceland)

63.5

Ervin Katona (Serbia)

60

Martin Wildauer (Austria)

55

Lauri Nami (Estonia)

46

Krzysztof Radzikowski (Poland)

42

Dainis Zageris (Latvia)

37.5

Björn Solvang (Norway)

35.5

Akos Nagy (Hungary)

33.5
by Randall J. Strossen, Ph.D. | ©2014 IronMind