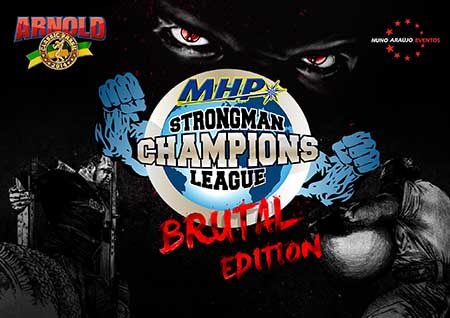 MHP Strongman Champions League is headed to Brazil for a series of events.  IronMind® | Image courtesy of SCL
"The MHP Strongman Champions League will have a special 'Brutal Edition' in the Arnold Classic Brasil," Marcel Mostert told IronMind today.
This strongman competition, on April 25–26, is a special edition, is not in the SCL series, but will be held under the auspices of SCL.
"Brutal events like the Dumbbell Press, Deadlift, Atlas stones and Log Lift for max will be done," said Mostert, who, along with Ilkka Kinnunen, will referee the event.  "The prize ceremony will be done by Mr. Arnold Schwarzenegger himself."
Start List
Zydrunas Savickas – Lithuania
Hafthor Bjornsson – Iceland
Krzyzstof Radzikowski – Poland
Ervin Katona – Serbia
Brian Shaw – USA
Dainis Zageris – Latvia
Lauri Nami – Estonia
Mike Burke – USA
Marcos Ferrari – Brazil
"It promises to be an awesome 'Brutal Edition,' with a lot of media coverage in Brazil. The MHP Strongman Champions League will be also perform in a few other big shows that week, with a combined viewership of 75 million in Brazil. The competition itself will be broadcast by Globo TV, the biggest channel in Brasil.
"Meantime, you can watch already the first stage MHP Strongman Champions League—Martinique at coming Friday 18 April at Eurosport, 19.00 hours CET," said Mostert.
by Randall J. Strossen, Ph.D. | ©2014 IronMind