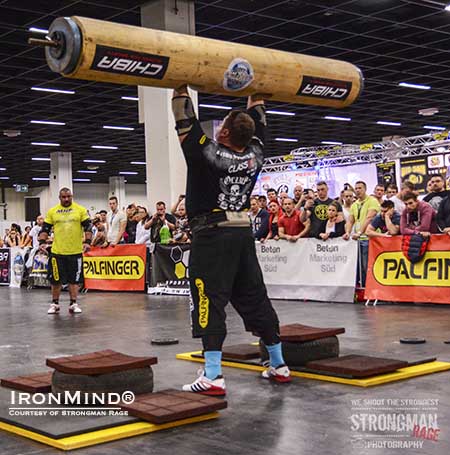 The Log Lift King, Zydrunas Savickas, doing his thing at the FIBO.  IronMind® | Photo courtesy of Strongman Rage
He's on a roll-coming off his big victory at the 2014 World's Strongest Man contest, Zydrunas Savickas won the MHP Strongman Champions League competition at FIBO, and Aryn Lockhart of Strongman Rage called the action for IronMind.
The Unstoppable Z
By Aryn Lockhart – Strongman Rage
Directly off of the Arnold's classic and WSM, Big Z (Zydrunas Savickas) did it again winning the FIBO in Cologne, Germany on 5 April 14. Fourteen athletes from 12 different countries battled through six events on the second stop in the MHP Strongman Champions League series. The competition boasted three WSM finalists in a field of top strongmen and the SCL Leader Ervin Katona.
The event was showcased during the FIBO, which is the largest international trade show for fitness in the world. The FIBO was sold out both Saturday and Sunday with over 80,000 visitors. The MHP Strongman Champions League competition was a highlight for FIBO Power. The events of the day included a 400kg (880lb) yoke for 40 meters; Giant Super log for maximum weight; 300kg (661lb) Frame carry for distance; 35kg (72.6lb) front hold;  Atlas stones from 140kg – 180kg (308kg – 396lbs); 350kg (770lb) deadlift for reps.
Not only was this a battle to the last event, it was filled with close contests and Savickas breaking his own world record on the Giant Super Log. The FIBO hosts the world's largest log with a 36cm diameter. A traditional log is approximately 32cm. Savickas proceeded to amaze spectators with his record breaking 205kg (451lb) overhead lift with ease.
The final event took place on the main stage. The 350kg deadlift for reps would be the event to crown the FIBO Champion. Each event was down to the wire with only a fraction of points separating first and second place.  In the end Savickas edged out Martin Wildauer to take the lead and the title. Wildauer did 10 reps, Savickas did 1 more for the win. Wildauer had an exceptional showing winning two of the six events.
Matjaž Belzak from Slovenia was the surprising newcomer in the MHP Strongman Champions League. As he placed fifth overall and lifted a 190 kg with the Giant Super Log , which was the previous record from Žydrūnas Savickas until that day. And this man is only 21 years old!
All of the action will be televised 23 May on Eurosport.
Final FIBO Standings
Zydrunas Savickas (Lithuania) 75.0
Martin Wildauer (Austria) 72.5
Ervin Katona (Serbia) 62.5
Eddie Hall (England) 61.0
Matjaž Belšak (Slovenia) 57.5
Krzysztof Radzikowski (Poland) 56.0
Alex Moonen (Netherlands) 46.5
Fuad Hsaini (Morocco) 40.0
Akos Nagy (Hungary) 38.5
Michael Blumstein (Germany) 29.5
Daniel Wildt (Germany) 25.0
Mike Koskowski (Germany) 17.0
Jonathon Kelly (N. Ireland) 15.5
Marco Ferrari (Brazil) 11.0
by Randall J. Strossen, Ph.D. | ©2014 IronMind