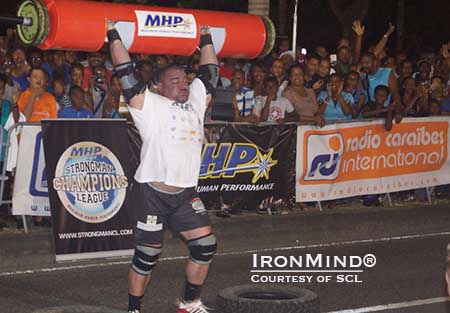 Ervin Katona opened the 2014 MHP Strongman Champions League season with a big win in Martinique.  IronMind® | Image courtesy of SCL
The 2014 MHP Strongman Champions League opened on the Caribbean island Martinique this weekend, featuring eight competitors in seven events over two days, and Ilkka Kinnunen called the action for IronMind.
MHP SCL Martinique: Ervin Katona Starts 2014 Season with a Victory – by Ilkka Kinnunen
First day ( Saturday).  The competition started at 7 pm.  A huge crowd of around 10,000 people was gathered around the venue to cheer the athletes.First event Truck Pull with harness and rope. 27 ton truck pulled 20m distance. Winner Ervin Katona.Second event: Log for reps 140 kg. Winner again Ervin Katona.Third event Forward Hold winner even with his triceps injury was Kryzstof Radzikowski.Fourth event and last for the first day: Deadlift for reps with 320 kg. Winner Didzis Zarinis (Latvia) with 11 reps.
Second day (Sunday): The competition started during the daytime at 1 pm, with very hot and sunny weather.  Around 4,000 people came even though the weather was very hot.  We did three disciplines. Started with Farmer's Walk (160 kg) and Powerstairs (220 kg) medley. Winner was Gerald Gschiel from Austria.Next was the Tire Flip: 8 flips with a 420-kg tire and Ervin Katona won. Last event was Truck Pull, arm over arm. 20-ton truck for 15 m. Winner again Gerald Gschiel.
The local organization Madina Side Barbell did an excellent job and for sure MHP SCL will return 2015 to Martinique.
Overall Results:
Ervin Katona
Gerald Gschiel
Lauri Nämi
Krzyzstof Radzikowski
Didzis Zarinis
Gregor Stegnar
Etienne Smit
Ovind Rein
by Randall J. Strossen, Ph.D. | ©2014 IronMind