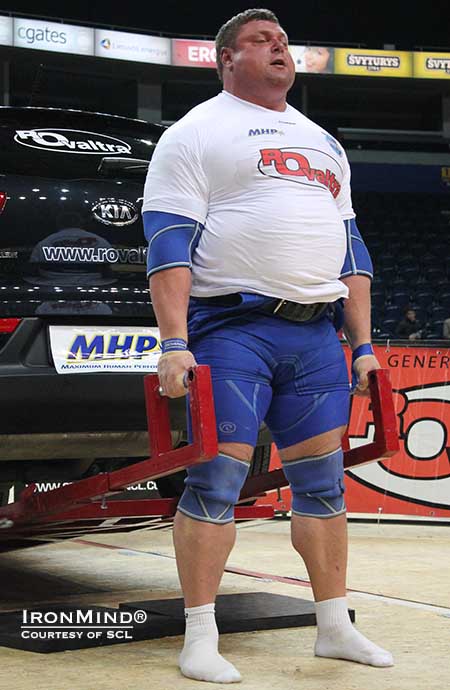 Zydrunas Savickas, en route to his overall victory at the MHP Strongman Champions League–Lithuania, won the 390-kg Car Deadlift with 9 reps.  IronMind® | Photo courtesy of SCL.
Coming from behind on the last event, Zydrunas Savickas won the MHP Strongman Champions League contest in Vilnius, Lithuania yesterday – giving him his second win in two days.
"It was not easy win for Big Z today at MHP Strongman Champions League–Lithuania: Vidas Blekaitis was leading by three points going into the last event, the Atlas Stones," Ilkka Kinnunen reported to IronMind.
The competition started with 140-kg Farmer's Walk (distance 40 m). Big Z took first place with a time of 18.20 seconds. In second place was Halfthor Björnsson at 19.71 seconds and third was Krzysztof Radzikowski at 20.83 seconds.
Next was the Log Lift for reps, with a 155-kg log. Big Z won with 9 reps, Radzikowski was second with 8 reps and Blekaitis was third, with 7 reps.
The third event was the Car Deadlift, with a heavy 390 kg for reps. Again Big Z powered to first place with 9 reps. Blekaitis got 8 reps for second place and Dainis Zageris made 7 reps for third place.
The Front Hold with 30 kg was the fourth event and Björn Solvang won with 52.76 seconds. Second place was Saulius Bruskokas, with 45.42 seconds, and third was Radzikowski, with 43.65 seconds. Big Z was last in this event and that changed totally the ranking. After the event, asking Zydrunas what happened, because normally he is always in first or second place, he said that the position he took at the start was wrong and that caused his bad time.
Next was the Yoke, 430 kg for 20 m. Blekaitis put more pressure on Zydrunas by winning the event with time of 9.86 seconds. Second was Zydrunas, 10.77 seconds, and third was Meelis Peil, 12.38 seconds.
Before the last event, Blekaitis was in first place, 3 points head of Zydrunas and Radzikowski, who were tied for second position, so the Atlas Stones (5 stones: 100 kg, 120 kg, 140 kg, 160 kg, 180 kg) would decide things.
Hafthor had an excellent time of 23.35 seconds for third place. Saulius Brusokas was second with 22.44 seconds, and first was Big Z with an unbelievably fast time of 17.09 secconds. Fourth was Radzikowski, 26.52 seconds, and fifth was Blekaitis, 27.29 seconds. This meant that Big Z took the victory 1 point ahead of Blekaitis; in third position was Radzikowski.
"Excellent and fast competition with a lot of drama and action. In few weeks time SCL travels to Brazil (Sao Paolo) for the Semi Finals, so stay tuned for more news to come," said Kinnunen.
Final Scores
Zydrunas Savickas

60.0

Vidas Blekaitis

59.0

Krzysztof Radzikowski

57.0

Saulius Brusokas

52.5

Hafthor Julius Bjornsson

50.0

Meelis Peil

40.5

Dainis Zageris

35.0

Björn Solvang

30.5
by Randall J. Strossen, Ph.D. | ©2013 IronMind