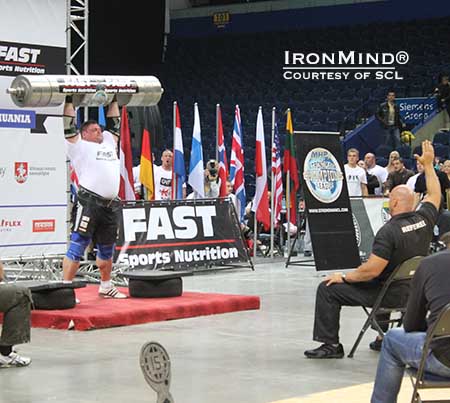 Long has Zydrunas Savickas dominated the log lift, and yesterday he pushed the world record to 222.5 kg.  IronMind® | Courtesy of SCL.
He rules the log lift and proving it once again, Zydrunas Savickas broke the world record yesterday at the Log Lift World Championships with a lift of 222.5 kg, Ilkka Kinnunen reported to IronMind.
"It was an awesome weather in Vilnius today when athletes were getting ready for the Log World Championships," Kinnunen said, setting the stage for top results and a great TV show.
"The competition was live on Eurosport, which always puts some extra pressure on the guys to try to make huge lifts. That we saw today when Zydrunas Savickas stepped up for his last attempt. The log was loaded up to 222.5 kg. He made few big shouts and stepped onto the platform. He easily brought the log to his chest and immediately pressed it up very clean and steady. What a power and, of course, a new world record has seen daylight.
"Second was Vidas Blekaitis, with also excellent lift of 205 kg. He definitely had some power to go even higher.
"Third was Krzyzstof Radzikowski, with a result of 200 kg. He missed his last lift, 205 kg, which he normally does easily.
"Fourth was Dainis Zageris, with a result of 185 kg. He missed 190 kg
"Fifth was Matt Wanat with a result 180 kg. He missed 190 kg
"Today we will continue with the MHP Strongman Champions League: 6 events, 12 athletes. This is 14th stage already. The leader at the moment is Kryzstof Radzikowski. So stay tuned for more news coming up," Kinnunen said.
by Randall J. Strossen, Ph.D. | ©2013 IronMind