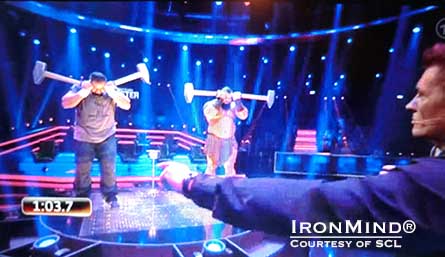 The Sledghammer Head Hold pitted Eddie Hall against Heinz Ollesch, with the winner having a shot at a 100,000 euro prize.  IronMind® | Image courtesy of SCL
"Last Saturday, a great show was done in Germany, live at their biggest
channel, ARD , with some strongman in cooperation with the MHP Strongman
Champions League," Marcel Mostert reported to IronMind.
"Two big hammers had to be held in a specific position at the head for longest time, in kind of Guinness records style competition," Mostert said.
This TV show Die Deutsche Meister (the German European Champion) was LIVE in 8 million households in Germany and the winner had chance at 100,000 euros in vote by the public.
Eddie Hall from England won this new event against Heinz Ollesch, the German champion and former World's Strongest Man competitor. Heinz's time was 1 minute 30 seconds; Eddie held on for 2 seconds longer.
"At the end, the strongman act was voted in second place by the German public, so they were very close to the 100,000 euro prize," Mostert said.
Here is a link to the complete show: the strongman act starts at about 28:50.
by Randall J. Strossen, Ph.D. | ©2013 IronMind