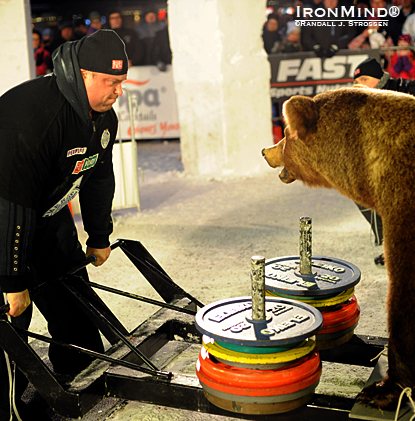 If your deadlifts are stuck, try this trick for motivation: go eyeball to eyeball with a bear, as Zydrunas Savickas did at the SCL Iceman today.  IronMind® | Randall J. Strossen photo.
Kuusamo, Finland–Just call him the Iceman because Zydrunas Savickas did it again, winning his third SCL Iceman in a row.
The Iceman is not your ordinary strongman contest, so when today opened with a loading race, it was massive logs and ice blocks that were loaded onto a platform made from ice, and the deadlift, for example, put a bear in the mix.
On his way to his third consecutive victory in the Iceman, Zydrunas Savickas opened the contest today by setting the world record in the Viking Press with 165 kg x 12 reps.
"In the beginning, we were pretty unlucky losing Terry Hollands and Jimmy Laureys, but were really happy Martin Wildauer came on such short notice.  On the first day, we had some rough weather-snow, wind, cold-but the athletes didn't complain.  It's the Iceman: whatever temperature or the weather, they will continue," contest organizer Ilkka Kinnunen told IronMind.
"Conan's Wheel was really tough: only 4 athletes made the full circle. Tomi Lotta was the only one to go over 70 meters, which made the Finns really happy.
"The Truck Pull Medley was extremely tough, especially with the truck pull as last part of the medley; Zydrunas and Tomi were the only ones to finish.
"Today was a sunny, beautiful day-perfect for the athletes and audience to enjoy the Iceman III," said Kinnunen.
Here are the final scores, officially.
Zydrunas Savickas

77.0

Laurence Shahlaei

71.5

Janusz Kaluga

64.0

Rauno Heinla

57.0

Ervin Katona

55.0

Tomi Lotta

54.0

Martin Wildauer

41.5

Juha-Matti Jarvi

32.0

Jarno Hams

27.5

Jarno Jokinen

26.5

Jarno Kirsela

18.0
by Randall J. Strossen, Ph.D. | ©2012 IronMind