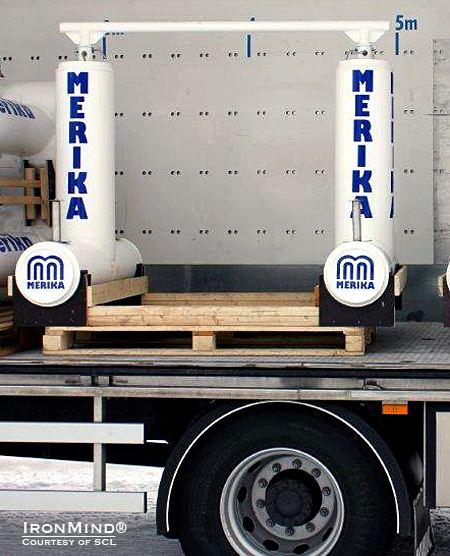 Water, ice and snow proof—ready for Iceman III—the yokes and other strongman equipment have arrived for the SCL 2012 season opener in Lapland, March 8–9.  IronMind® | Courtesy of SCL.
Coming off a successful 2011 season, Strongman Champions League (SCL), the biggest tour on the professional strongman circuit, is growing again: 16 international shows will be hosted in 2012.
Today arrived the equipment for our first show, March 8–9 , the Iceman III in Lapland. Brand-new yokes have been made by us: water, ice and snow proof! Other events are just beautiful as well.
Set in Kuusamo, Lapland March 9–10, 2012, the SCL IceMan III will take place around Ruka, SCL's Ilkka Kinnunen told IronMind, with the events spread across three locations and the public having "free access to all competition venues."
"Zydrunas will come here to defend his title and only 2 weeks ago he got a new world record on the 'small' SCL Log Lift (log was 28 cm) with 215 kg. We are proud to have this super athlete, multiple world record holder and always a gentleman, Zydrunas Savickas, again in the SCL Lapland.
The complete start list:
Zydrunas Savickas
Terry Hollands
Laurence Shahalei
Ervin Katona
Tomi Lotta
Juha Matti Järvi
Jarno Hams
Jimmy Laureys
Janusz Kaluga
by Randall J. Strossen, Ph.D. | ©2012 IronMind