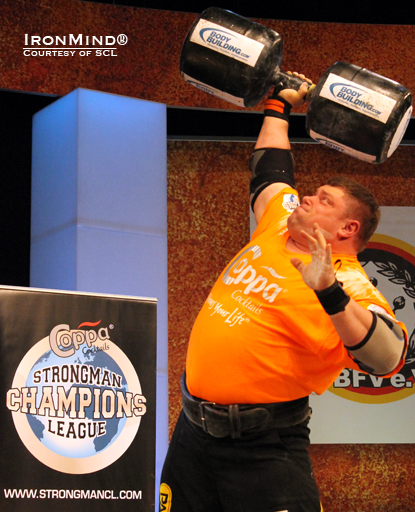 Zydrunas Savickas turned out another powerful performance and won the 2012 SCL strongman competition at the FIBO this weekend.  IronMind® | Photo courtesy of SCL.
"Germany's FIBO is the worldwide leading trade show for fitness, wellness and health; and it is also the competition arena for SCL top strongman athletes," SCL cofounder Ilkka Kinnunen told IronMind today.
Adding some numbers to the picture, Kinnunen said, "The competition brought over 50.000 people to FIBO to watch all kind of action from fitness, bodybuilding, MMA to strongman.
"This year the SCL competition events were Maximum Log Lift, Bavarian Stone Deadlift, Forward Hold, Yoke Medley, Giant Dumbbell Press and Atlas Stones.
"Zydrunas Savickas showed that his top shape is continuing winning 3 events out of 6. and in one equal victory with Laurence," Kinnunen said.
Here are the top six, officially:
Zydrunas Savickas 68.0
Laurence Shahlaei 58.0
Ervin Katona 52.5
Martin Wildauer 49.0
Terry Hollands 46.5
Alex Moonen 40.5
"The top three will meet 3 powerlifters in a Deadlift Challenge later in the evening, so stay tuned for more news," said Kinnunen.
by Randall J. Strossen, Ph.D. | ©2012 IronMind