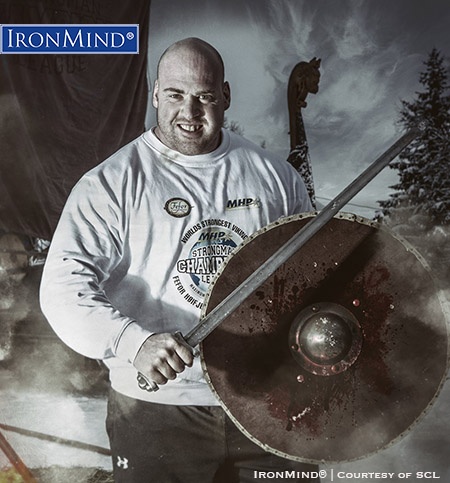 Canada's foremost strongman, J-F Caron, is the defending champion at Strongman Champions League–Norway.
IronMind® | Courtesy of SCL
Vikings and strongman go together like ham and eggs, so welcome to the 2017 edition of SCL Norway-aka The Strongest Viking-as Kikki Berli-Johnsen sets the stage.
Up in the mountains above the little village of Vinstra, placed in the beautiful valley of Gudbrandsdalen, SCL Norway – The Strongest Viking 2017 will be held January 27th and 28th. This is the first of 16 stages of the MLO Strongman Champions Leauge 2017. This is the 10th year in SCL history, so it will be very interesting to see who will be the new world champion this jubilee year.
Like the last two years, the venue is the same; the majestic Fefor High Mountain Hotel, and like earlier years a viking village with harsh Viking fighters, beautiful viking women, salesmen and viking games. This makes this competition different from all the other competitions around the world.  12 of the strongest men from the Northern hemisphere will compete in a total of 6 events, where the first event will be held Friday 27th at 8.00 PM. Event two starts at 11.00 AM Saturday 28th. The six gruelling events are:
– Front Hold with sledgehammers
– Viking Boat Pull (harness only)
– Powerstairs
– Viking Press
– Timber Yoke
– Atlas Stones (100-180 kg)
New for this year is the Timber Yoke. It is an extremely long log placed on top of a frame, and the most challenging part of this event won't be to carry 412 kg in the snow, but to find the balance on the equipment. This will be fun! The twelve strong men who will fight the title are:
– JF Caron, Canada
– Lucain Herrick, USA
– Krzysztof Radzikowski, Poland
– Jorgen Aukland, Norway
– Johan Espenkrona, Sweden
– Antti Mourujärvi, Finland
– Ole Martin Kristiansen, Norway
– Jon Olav Granli, Norway
– Sean O'Hagan, Ireland
– Morten Lund, Denmark
– Bjorn Andre Solvang, Norway
– Will Baggot, England
JF Caron is defending his title, and he must fight for it with this lineup of strongmen. There are a few new names in this lineup, and we can't wait to see how the big Texan Lucain Herrick will handle the freezing temperatures up in the Norwegian mountains, or how easily the Irish giant Sean O'Hagan will pull the viking ship. O'Hagan is the biggest strongman in the world, reaching 212 cm over sea level and weighing 200 kg (6'9 and 440lbs).
There have been hundreds of competitions over the years – never one like SCL Norway.  There have been thousands of athletes – this line-up is unique. They are used to sweating – now they'll freeze their glutes off. Game on!