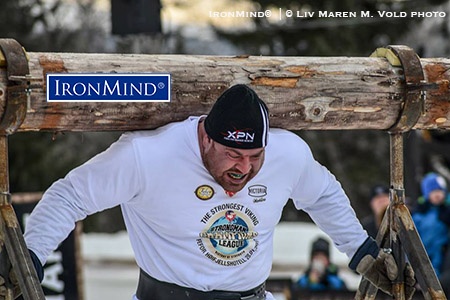 Top Canadian strongman J-F Caron won the dramatic and prestigious SCL Norway competition at the Fefor Hotel in Vinstra, Norway.
IronMind® | ©Liv Maren M. Vold photo
Canada's Jean-Francois Caron won the kickoff stage of the 2017 MLO Strongman Champions League season.
The Strongest Viking 2017 by Kikki Berli-Johnsen OSL Gardermoen arrival area and customs was bustling with the normal humming from hundreds of people, their trolleys and an occasional child in a screaming frenzy. The passengers from DH 4075 origin Ireland entered the area. People stopped… children went silent… almost everyone glanced over at the 7 foot giant that entered.
The three blind people with white canes did not look, of course, but they started to wave their canes around to find out what happened to all the people. MLO Strongman Champions League was soon to begin – the first giant had landed. Friday morning all twelve athletes has arrived at Fefor High Mountain Hotel, this beautiful old hotel in the majestic mountains over the village Vinstra in Norway. The guys all were a bit on the edge; ready to show the world who the strongest Viking is. Still, they laughed, made jokes on the behalf of each other – just like strongmen do when they are together.
The plan was that the first event, front hold, was to be held Friday night, but due to insufficient light Marcel and Ilkka decided to postpone the event to the next day. The athletes suddenly got another 15 hours to eat and relax, and man, did they eat and relax. That is, by the way, not difficult to do at Fefor.
Saturday raised with -10 degrees Celsius (14 F) and partly cloudy weather. The athletes ate their breakfast, and the atmosphere was clearly marked with pressure. First event was to start at 11:00 AM, and at the exact time the first athlete was ready. Bjorn Andre Solvang from Norway was the first athlete out, and as one of the best front holders in the world he got to set the standard for the event. He stood for 48 second, and only two athletes held the 29 kg timber log with chains on longer than him.
Next event was boat pull. A Viking long boat was to be pulled 25 meters as fast as possible. This boat is not very heavy, but because of the snow it is hard to get to move, and it's hard to get a good grip for the shoes in the snow. Several of the spikes was ruined during the runs, and that made the pull even harder. Both Will Baggot from England and Lucain Herrick had looked forward this event, and both did a very good pull. The big Swede, Johan Espenkrona, lost the spikes on his right foot just after start, but still finished the run pretty well.
After two events, the TV-crew filmed the entrance of the athletes. 30 wild Viking kids attacked the athletes together with the fierce Viking fighters, while the Fakir blew his flames and the Vikings drummed their drums.
Third event was that brutal timber yoke you all have seen pictures of. A 7 meter (23") log was placed on top of the frame, and all together it weighed 412 kg (908 lb.). The yoke was to be carried for 20 meters (65.6 ft.) as fast as possible. With this length of the log it was very hard for the athletes to find the balance. Jorgen Aukland from Norway showed that when he didn't find the balance, and almost beheaded the audience on his way. Morten Lund from Denmark scared everyone when he just collapsed under the yoke. Everyone thought he had fainted, but what happened was that his knee got twisted, so he couldn't walk. Still he got up and finished the run. Lucain had the most awesome run of them all with 11.11 second on the snow and ice, and won the event.
Fourth event was Viking press. 165 kg in hand should be pressed as many times as possible. Viking press is not a good event for very tall people, and we could see that it was hard for Sean who had to start in a squat position before he pressed. Still he did well. Everyone expected good pressing from Bjorn Solvang. He did 11 reps, and was happy with that until both Lucain and Krzysztof did 13 reps, and shared the event victory.
Then it was the power stairs. Three implements, weighing 200, 220 and 230 kg should be moved up four steps as fast as possible. Every Norwegian present knew that Jorgen Aukland is extremely good at this event, but this time he had to see himself beaten by Krzysztof. All guys did well at this event, and this year no one stumbled down the stairs on the way down.
Last event was the atlas stones. Four stones from 120 to 180 kg were to be loaded on to a 130-cm high platform in the shortest time. Not a very hard task—except when the temperature is -10 C/14 F, and when no tacky is made for this kind of temperatures. Krzysztof was not happy with this event last year, and he wasn't happier this year either. The difference was that this year he didn't nag about it all the time.
This year the athletes were smart and stayed in the athletes' tent as close to their turn to lifting as possible. That way they made sure that the tacky stayed soft longer, and it also made more of the athletes lift three or four stones. Poor Antti struggled with really bad back pain, so he only lifted one stone, and fastest of them all was the new and very strong Norwegian strongman, Ole Martin Kristiansen. He did all four stones in 15.94 sec, and won the event.
Krzysztof was in the lead going into this last event, so everyone was sure that he would win. But—alas … that last stone was hard for him this year as well, so after the stones he had to see himself beaten by the amazing J-F Caron from Canada, who won the title The Strongest Viking 2017.
I have to admit that I am not sure who won the after-party, but I am pretty sure that Sean O'Hagan won the Viking Games late that night …
Final results:
J. F. Caron / Canada

59 pts

Krzysztof Radzikowski / Poland

53.5 pts

Lucain Herrick / USA

49.5 pts

Ole Martin Kristiansen / Norway

49 pts

Jorgen Aukland / Norway

45.5 pts

Jon Olav Granli / Norway

40 pts

Sean O`Hagan / Ireland

35 pts

Bjorn Andre Solvang / Norway

33 pts

Will Baggot / England

30 pts

Antti Mourujarvi / Finland

25 pts

Johan Espenkrona / Sweden

25 pts

Morten Lund / Denmark

22.5 pts
SCL wants to thank again to Fefor High Mountain Hotel and Vinstra community as well as Anne Grethe Horten for the great hospitality; and Egil Berli-Johnsen with his excellent equipment team.
We will see you all next year, but first we will gone do stage 2 of the MLO Strongman Champions League in Germany at the World's biggest expo: FIBO 2017
Your favourite strongman will be live to see there at April 9th.