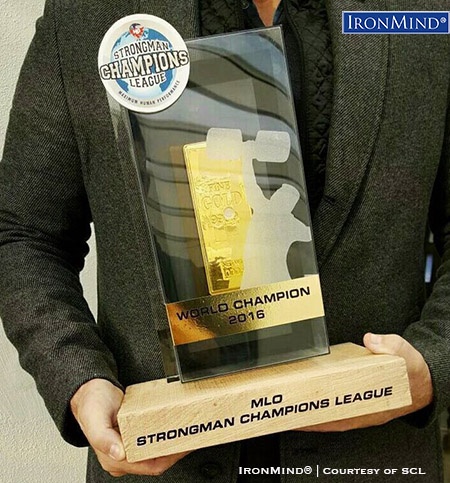 The 2016 MLO Strongman Champions League finals will be held in Dubai November 4-5, to determine the SCL world champion, who will win this trophy and 1 kg of gold, among other awards. IronMind® | Courtesy of SCL
"Finally, The real raw clash for the world title will be this coming weekend 4 and 5 November in Dubai," Marcel Mostert reported to IronMind.
During the year, more than 100 athletes competed in 15 stages all over the world to gather ranking points in the biggest strongman league of the world, the MLO Strongman Champions League. The 10 best in the ranking, with only 1 per country allowed, will start in the world finals: the SCL leader will start with 10 points in the finals, the number 2 with 9 points, etc.
There is still a chance for these finalists to be the new world champion 2016 and win a bonus of 1 kg gold.
These are the finalists and their starting points:
DAINIS ZAGERIS / Latvia

10

MATJAZ BELSAK / Slovenia

9

KRZYSZTOF RADZIKOWSKI / Poland

8

ALEX MOONEN / Holland

7

LAURI NAMI / Estonia

6

MARTIN WILDAUER / Austria

5

ERIC DAWSON / USA

4

JEAN-FRANCOIS / CARON Canada

3

BJORN SOLVANG / Norway

2

ANDREAS ALTMANN / Germany

1


*Stoyan Todorchev was 4th in the final ranking, but he got injured
Here is the schedule for the finals:
Friday 4 November
09.00 Car train Pull
14.30 Rock Lift Medley
16.30 Pole Push event
Saturday 5 November
14.30 Deadlift with cars for reps.
16.00 Forward Hold
17.00 Loading IronMind sand bags
18.00 Prize ceremony
See a preview trailer of the World Finals in Dubai here: https://vimeo.com/189316023