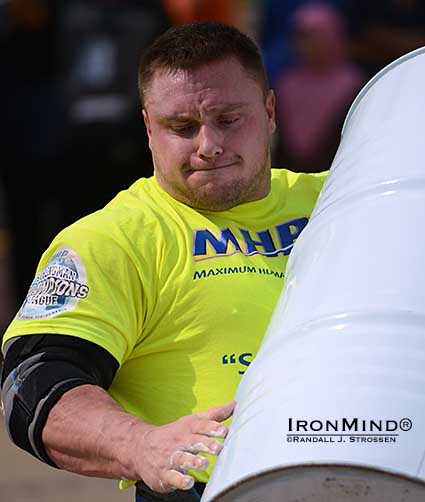 SCL Malaysia was the Grand Finale for the MHP Strongman Champions League 2013 season—Kryzsztof Radzikowski (shown on the Barrel Loading event) was among those delivering outstanding performances, which will be  broadcast on Eurosport on January 2.  IronMind® | Randall J. Strossen photo
We think it is an awesome trailer and positive advertising for our beloved strongman sport.
The first broadcast of this spectacular finals with the best strongmen in the world can be seen on January 2, 2014 at 22.00 hours on Eurosport. There you will see who won the SCL MALAYSIA and who got crowned to the new SCL World Champion 2013.
We want to give special thanks to the Malaysian government and the Tourist office Visit Malaysia, Biogrow Health SDN BHD and MHP for making this great finals possible.
"The MHP Strongman Champions League wishes everybody a great Christmas and a strong 2014. We will be back next year, and again bigger as usual."
by Randall J. Strossen, Ph.D. | ©2013 IronMind