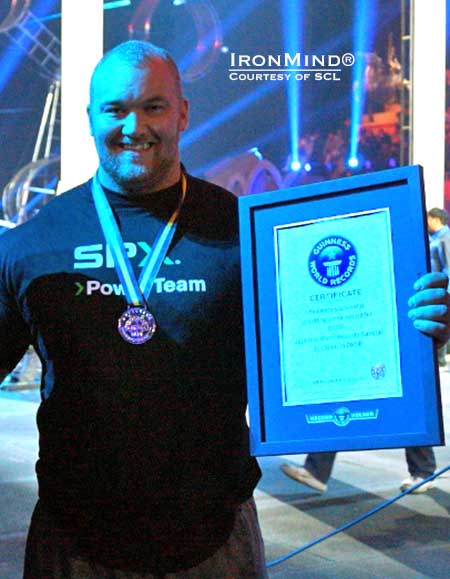 Hafthor Julius Bjornsson wasted no time putting his name in the Guinness World Records book in 2014.  IronMind® | Photo courtesy of SCL
"Randy, I'm here in China with Mike Burke and Thor for the Guinness Records and for one other TV show," Ilkka Kinnunen reported to IronMind today.
"Last night we had the Keg Toss for height Guinness World Record record attempt, and here is little story:
"The season started early of this year for SCL and its athletes. Yesterday Thor Björnsson and Mike Burke were challengers on Guinness World Record TV show in China, trying to make new  record in Keg Toss. The keg weighs 12.5 kg and record before the attempt was 7.40 m done by the German athletic.
"At each heigh,t the athletes had 3 tries. First the bar was put at 7.50 m. The record holder missed, but Mike and Thor cleared it easily. Next height was 7.70 m again Thor and Mike both cleared it easily. Then the bar put to 8 m. Thor made it with an unbelievable throw.  Mike´s turn: Height was there, but just did not turn over and the same thing with his all 3 throws, so Thor take his first Guinness World Record in Keg Toss with 8 m!!!
"Today we will travel back to Shanghai for other TV show called Thank God You Are Here. This show is more like a talk show, but it is one of the most popular morning shows in China," said Kinnunen.
by Randall J. Strossen, Ph.D. | ©2014 IronMind