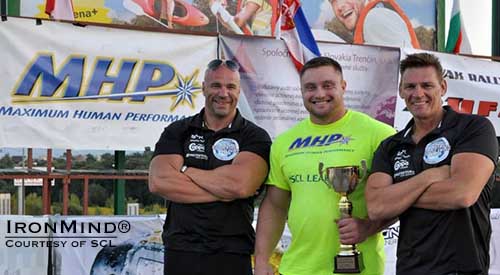 2013 MHP Strongman Champions League world champion Krzysztof Radzikowski (center), flanked by SCL directors Ilkka Kinnunen (left) and Marcel Mostert (right).  IronMind® | Image courtesy of SCL
"The MHP Strongman Champions League will continue with MHP as their main sponsor in 2014," SCL director Marcel Mostert told IronMind today.
"We are both very happy with the results from last year and the MHP Strongman Champions League will have a full calendar again in 2014.
MHP has been, and still is, a very important ingredient in our road to success.  We are very thankful for that.
"Also, our new SCL world champion, Krzystof Radzikowski, who was sponsored personally by MHP throughout 2013, thanks his main sponsor for that, and he will continue as well with MHP in 2014.
The SCL is the biggest strongman league worldwide at the moment, and will organize more than 20 international competitions in 2014, such as the 105 Worlds , the World Teams in China, and most important, over 16 stages (competitions) throughout the year in 16 different countries the Champions League series.
"In 2013, we had 74 athletes competing in this  series from all over the world. This year it will grow again.
"We are a full-grown, premiere televised league, with its events broadcast to more than 1 billion households worldwide.
"Again MHP provides SCL the ability to develop more quality with powerful events and top athletes all over the world," said Mostert.
"MHP's corporate mission has always been to develop premier science-based, research-driven sports supplements to help athletes achieve their greatest physical potential. Over the years, MHP has introduced many innovations and breakthroughs in sports nutrition. MHP has become the most trusted brand and industry leader among world-class athletes, strongmen, pro bodybuilders, powerlifters and fitness enthusiasts alike – and sees its partnership with the SCL a perfect blend of world class performance and performance nutrition. Over the past few years, MHP has experienced significant growth in our international business," said Steve Downs, MHP Marketing Director.
"Our partnership with the Strongman Champions League will continue our role as the global leader in performance supplementation for world class athletes everywhere," Downs said.
"Next week, the new calendar from the MHP Strongman Champions League 2014 will be presented here on IronMind and the official website of SCL," said Mostert.
by Randall J. Strossen, Ph.D. | ©2014 IronMind