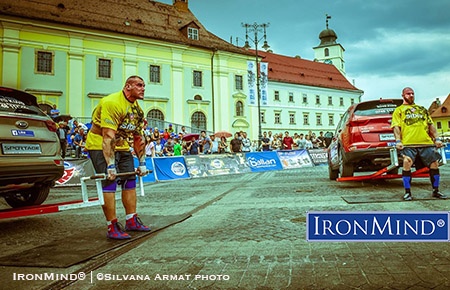 Mateusz Baron (Poland) squares off against Romanian Vladimir Comorovschi (Romania) in the deadlift at SCL Romania 2016. IronMind® | ©Silvana Armat photo
Subiu, Romania hosted the Strongman Champions League Romania last weekend, a two-day, seven-event battle "with lots of spectators, 27-degree [80 F] weather, sunny skies… a fantastic strongman experience," SCL Director Marcel Mostert told IronMind.
"The polish Power, Mateusz Baron, won his first SCL win ever and he was really proud and happy with that: 'This was a dream for me,' he said."
Holland's Alex Moonen from Holland, reportedly in great shape at the moment, was second, and Martin Wildauer (Austria) finished third overall.
Again a stage in the MLO Strongman Champions League with a very successful ending.
"We thank the city of Sibiu and especially Andrei Dinu and Sergiu Olteanu for their perfect organizing skills and hospitality," said Mostert. "This was another stage of the MLO Strongman Champions League with a very successful ending."
Final Results SCL Romania 2016
Mateusz Baron / Poland
Alex Moonen / Holland
Martin Wildauer / Austria
Bjorn Solvang / Norway
Lauri Nami / Estonia
Daniel Gracia / UK
Andreas Altmann / Germany
Stoyan Todorchev / Bulgaria
Vladimir Comorovschi / Romania
Vladimir Bulatovic / Serbia
Adrian Boros / Hungary
Alex Argentineau(inj) / Romania
The next stage of the MLO Strongman Champions League will be Curacao, a beautiful and really astonishing place in the Caribbean islands," Mostert told IronMind.
On their sandy white beach there will be some cruel events again, but for the real strongman, this is not a problem. All athletes will fight for more ranking points to get into the finals in Dubai at 4 and 5 November, where 1 kilogram of gold is waiting for the winner.
Krzysztof Radzikowski from Poland, the defending World Champion, will be a presence as well, returning to competition following a three-month break due to injury.
"It promises to be fireworks again, so stay tuned to IronMind and the SCL website," said Mostert.