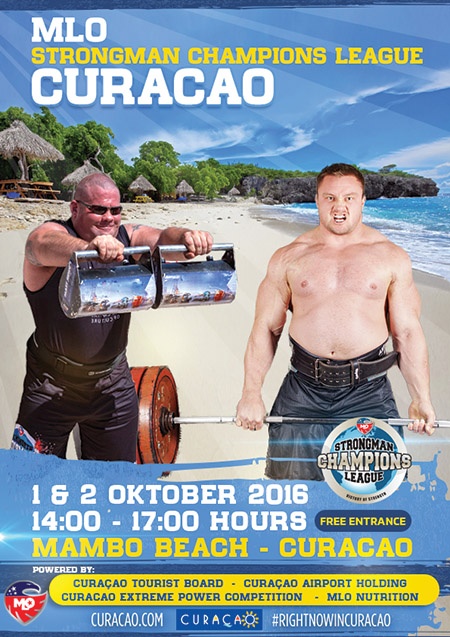 SCL Curacao isn't just about the title or picking up points for the finals – it also marks the continuation of the MLO Strongman Champions League move away from support gear and other equipment they feel is dangerous, artificial, uncomfortable or not in keeping with the primal spirit of strongman. IronMind® | Image courtesy of SCL
If you want to compete in the MLO Strongman Champions League, you can kiss your powerlifting suits goodbye – they have just been banned, along with double sleeves, double belts and figure-8 lifting straps.
"We are proud to announce our next stage of the MLO Strongman Champions League, coming weekend, 1-2 October in Curacao," SCL Director Marcel Mostert told IronMind today.
Curacao is a very beautiful, Dutch island in the Caribbean, well known as a holiday paradise, and we have something great planned for the pearl white Mambo beach of Curacao: Boat pulling, loading events, rock lifting, and more.
Athletes such as Krzysztof Radzikowski, Dainis Zageris, Holland's own Alex Noonen, and runner-up in this year's Canada's Strongest Man, Jimmy Paquet, along with any more top strongman athletes," said Mostert.
This competition will be a battle not just for the title in Curacao, but also for SCL ranking points going into the 2016 SCL World Championships and season finale—where 1 kg of gold awaits the winner.
In more big news, SCL, which has already begun its move to raw strongman by banning double sleeves, double belts and figure-8 lifting straps, is now banning powersuits as well: "Beginning 1 October it will be not allowed anymore in SCL to use a powersuit in deadlifts/Yoke race/and other strongman events," Mostert told IronMind.
"As stated earlier this year, the MLO Strongman Champions League believes in the real strongman, raw power, to show why a man is a real man and why why strongman is the most brutal force close to nature."
Mostert also pointed out that banning these suits will make things much more comfortable for the competitors, especially in sweltering temperatures.
"Raw Strongman, showing their muscles and their unbelievable strength at their highest performance: That's what we want to see and that's what the world needs to see," Mostert said.
SCL Curacao is October 1, at 14:00 local time (20.00 CET), on Mambo Beach, and if you can't make it there in person, follow the competition live, on-demand, where Mostert said, "The World's biggest strongman league is coming to you!"