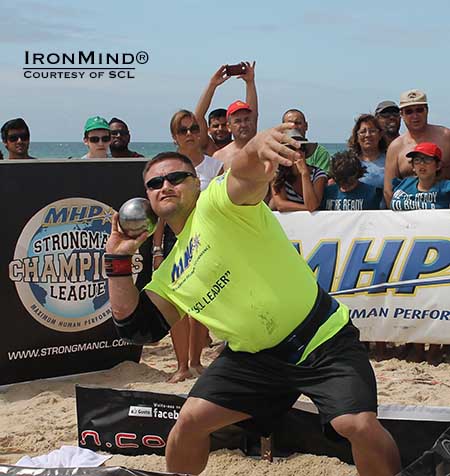 Krzysztof Radzikowski on the 14-kg shot put at SCL Portugal.  IronMind® | Photo courtesy of SCL
"In an amazing atmosphere at the beach and center of Tavira in Portugal, the 7th stage of the MHP Strongman Champions League was won by the SCL leader Krzystof Radzikowski from Poland," Marcel Mostert reported to IronMind today.
"He showed why he is the absolute SCL leader at the moment," said Mostert. "Just in the last event, the log lift for reps with 140 kg, he took the lead after 6 events, and because he did eleven reps, and Vytautas Lalas did 10 reps on this, Krzysztof finished first overall.
The strong Norwegian newcomer Bjorn Andre Solvang took second place, only 2 points behind Krzystof. Vytautas Lalas ended on 3rd place with same points as Terry Hollands from the UK.
They were all so close to each other, which made it a very exciting fight.
Very interesting was the shot put event with 14 kg: Vytautas Lalas threw the ball 9.40 meters in 3 attempts. That can be called a new world record. Krzystof was close to it with 9.30 meter and Terry Hollands got a third place on this event with 8.45 meter.
"Many thanks to Nuno Araujo and his organisation. They did an outstanding job and the SCL will be back there next year," said Mostert.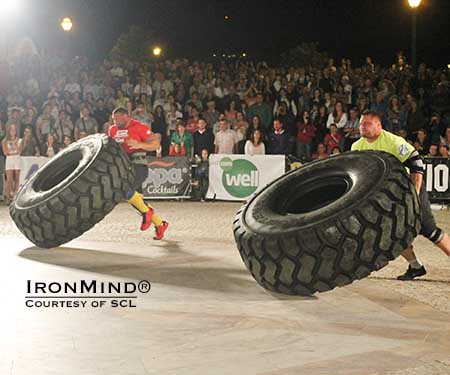 Terry Hollands (left) going head-to-head with Krzysztof Radzikowski (right) in the tire flip at SCL Portugal.  IronMind® | Photo courtesy of SCL
Official Final Points (top 8)
Krzysztof Radzikowski (Poland)

50.0

Bjorn Andre Solvang (Norway)

48.0

Vytautas Lalas (Lithuania)

47.0

Terry Hollands (UK)

47.0

Ervin Katona (Serbia)

44.0

Alex Moonen (Holland)

23.0

Marcos Ferrari (Brazil)

19.0

Aderito Santos (Portugal)

18.5
For everyone within range of Eurosport, watch for MHP Strongman Champions League Czech this Friday, August 2, at 21.15, and watch Vytautas Lalas and Krzysztof Radzikowski battle it out for the title.
by Randall J. Strossen, Ph.D. | ©2013 IronMind