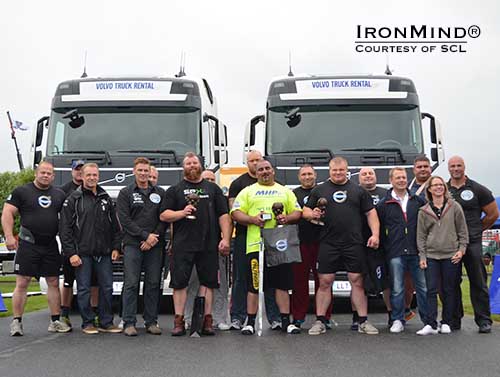 Challenging conditions greeted the first ever Strongman Champions League Truck Pull World Championships yesterday-Ervin Katona prevailed, claiming the title.  IronMind® | Photo courtesy of SCL.
"The Truck Pull Worlds were done yesterday in rainy weather, which made the competition very hard for the athletes," Ilkka Kinnunen reported to IronMind.  "Slippery asphalt, a wet rope and an uphill track were a few of the issues athletes had to handle yesterday."
A total of 11 athletes arrived for the Trcuk Pull World Championships and favorites Ervin Katona and Thor Björnsson started the first round with excellent results: Thor first and Ervin second.
"After a small break, we continued with Truck Pull arm over arm. This event brought lot of surprises and totally changed the order of the leaders: Everyone's favorite Thor was far from the leading times and dropped out from semifinals. The top four athletes advanced to the semifinals and they were Ervin Katona, Meelis Peils, Dainis Zageris and Finnish Viking Antti Mourujärvi.
In the semifinals, Antti Mourujärvi pulled against Dainis Zageris, and Meelis Peils pulled against Ervin Katona. In first pair, Antti Mourujärvi showed that he is in shape and won both pulls. In the second pair, Ervin and Meelis fought hard until the end. Ervin Katona was faster and went on to the finals, against Antti Mourujärvi.
In first pull Ervin took a small lead and kept it until the end. This did not put Antti´s spirit any lower. He came into the second pull with full energy, however Ervin was stronger this time and took also the second round pretty easily.
"This new competition got already a lot of interest and it will continue 2014," said Kinnunen.
Top six athletes:
ERVIN KATONA
ANTTI MOURUJÄRVI
MEELIS PEIL
DAINIS ZAGERIS
THOR BJÖRNSSON
LARS RORBAKKEN
by Randall J. Strossen, Ph.D. | ©2013 IronMind