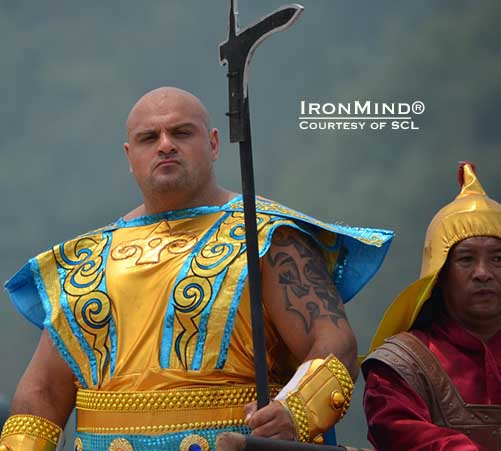 Laurence Shahlaei, in gladatorial splendor, sets the tone for SCL–China.  Shahlaei was captain of the Blue Team, in a format unlike anything seen before in strongman in a contest of unrivaled scale and staging.  IronMind® | Courtesy of SCL.
Introducing the first SCL China trailer to hit the web, Marcel Mostert told IronMind, "Look for the first scene shots of a few events done last week in China.  The MHP Strongman Champions League proved to do its biggest event ever in history."
"31 countries where involved, a crew of 65 people and 1000 knights to complete the show," said Mostert. "Great shots of the Emperor's mountain, the airport and the Giant Jar are on this link:
More trailers to come, with shots of the Shaolin temple, the Shaolin martial arts school, well known as the biggest martial arts school in the world, and the Zhengzhou city where the athletes made a tour in 20 pick up trucks.
And also all the strongman in a real gladiator outfit fighting against each other, ending with great fire works as only the Chinese people can do.
Again, a fantastic event to look back at, with a great ending!
"For more trailers, stay tuned to IronMind and the SCL website," said Mostert.
by Randall J. Strossen, Ph.D. | ©2013 IronMind