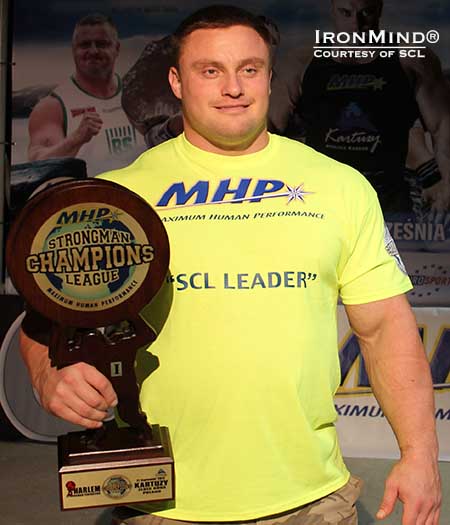 Krzysztof Radzikowski won the 2013 MHP Strongman Champions League competition in Kartuzy, Poland yesterday and is the series leader.  IronMind® | Photo courtesy of SCL
With beautiful sunny weather and in front of the 2000 people, the athletes worked in 6 hard events.
The competition opened with an arm-over-over pull, that Kinnunen said "was actually the only event that was way too light for these giants and most times came very close inside 2 seconds. The winner was the new Norwegian strongman star Björn Solvang."
Next up was the Viking Press, with 170 kg for reps. "This is the heaviest weight used in the SCL series and with a new world record, the Polish strongman hero and Leader of the SCL series, Kryzstof Radzikowski showed his power by doing 12 reps inside the 60-second time limit."
Weight for height followed and this introduced a new height for this event in SCL: 5.20 meters. Eight barrels were used (2×18 kg, 2×20 kg, 2×22 kg, 2×24 kg) and once again Radzikowski won.
Björn Solvang dominated the fourth event, the Forward Hold, and won it easily..
A very heavy deadlift with cars was the fifth event and, "Only few athletes managed to do any reps. The best result with equal 6 reps was done by Zydrunas Savickas, who was suffering very bad flu., and Dainis Zageris," said Kinnunen.
Big Z show wrapped up the contest with an easy victory in the Atlas Stones, securing his second place overall, and Kinnunen called it, "An amazing result since he had a bad flu that he got a week ago in SCL Russia."
Overall top five
Kryzstof Radzikowski
Zydrunas Savickas
Dainis Zageris
Björn Solvang
Martin Wildauer
"Special thanks to Harlem Strongman Federation who once again showed their professionalism in putting on an MHP SCL series competition," said Kinnunen.
Next weekend SCL continues in Gibraltar, so stay tuned.
by Randall J. Strossen, Ph.D. | ©2013 IronMind