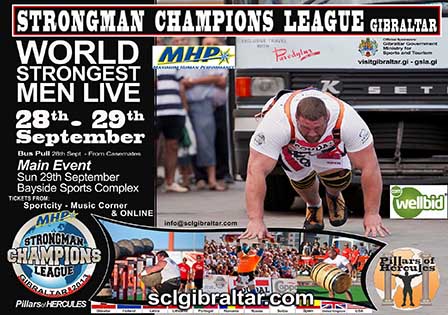 The last known home of Neanderthals and nicknamed The Rock: Is the MHP Strongman Champions League – Gibraltar in the right setting or what?  IronMind® | Image courtesy of SCL.
This coming weekend, September 28-29, the MHP Strongman Champions League is headed for Gibraltar – aka The Rock.
Reminding us of some 18th century history, SCL's Marcel Mostert told IronMind, "It was seized in 1704 by the British as part of its operations against the French in the War of the Spanish Succession.  'The Rock' is a country with the size of 2.6 miles by 1.2 miles , situated at the front coast of South Spain.  The language is English and it has an own government.
According to Wikipedia, Gibraltar is "the last known holdout of the Neanderthals," so how's that for having the right DNA?
SCL Gibraltar will feature 13 strongman competitors in six events and tying into local geography, the Pillars of Hercules will be contested, along with the Atlas Stones, Truck Pull, Yoke Medley, Forward Hold and the Viking Press.
Start List
Zydrunas Savickas / Lithuania
Terry Hollands / England
Bjorn Solvang / Norway
Krzysztof Radzikowski / Poland
Ervin Katona / Serbia
Lauri Nami / Estonia
Dainis Zageris / Latvia
Rob Frampton / England
Alex Moonen / Holland
Tomi Lotta / Finland
Juan Carlos / Spain
M. Hamidi / Morocco
For full details, please visit www.sclgibraltar.com; IronMind was told that tickets for the live show are still available.
Also, Eurosport will be broadcasting the SCL Truck Pull World Championships on September 27 at 23:00 CET.
by Randall J. Strossen, Ph.D. | ©2013 IronMind