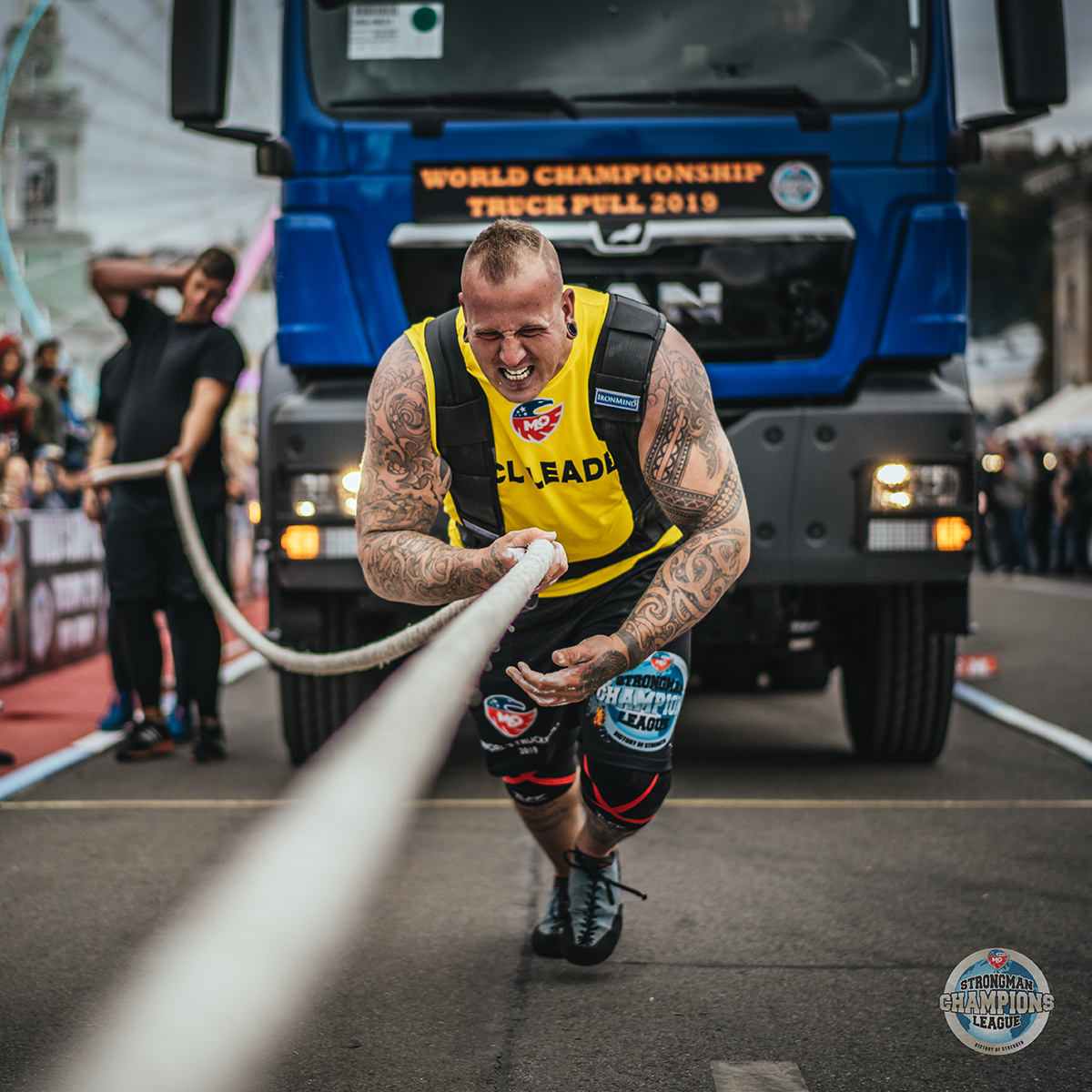 IronMind® | Peter Agostan, SCL photo
The ante is two meters tall and 165 kg bodyweight, no problem for Kelvin de Ruiter as he defended his SCL World Truck Pull Championships title.
The Truck Pull stands out as a big man's event in a big man's sport and the SCL World Truck Pull Championships proved that in spades with a podium of guys who easily fit the bill.
2019 SCL Truck Pull Championships
by Marcel Mostert
Strongman Champions League (SCL)
Kelvin De Ruiter from the Netherlands, became the SCL World Truckpull Champion for the second time last weekend in Kiev, Ukraine.
With two victories and one second placer in the three-event competition, he defeated all the other strongest truck pullers from all over the world. An exceptional achievement! After he defeated Brian Shaw, JF Caron and Terry Hollands in the previous edition of the World's Truckpull Championships, he did it again in Kiev against another strong field.
Sean O'Hagan, 2.13 meter tall and 200 kg bodyweight from Ireland was second and Mika Torro, (2.08 meters tall and 190 kg bodyweight) from Finland was third.
They had to do 3 pulls:
1 x  Only Harness             8 tons/25 m
1 x Hand over hand         15 tons/25 m
1 x Harness and rope      20 tons /25 m
The last truckpull was so heavy that only 3 athletes finished this. Kelvin, Sean and Nick Corgiat from the USA.
All the top 3 athletes are above 2 meters tall and weigh over 165 kg—truly one of the strongest  and biggest trios in the world of strongman, and Kelvin is the strongest truckpuller on earth at the moment. No doubts!
Total results:
Kelvin de Ruiter (Hol)

38 points

Sean O Hagan (Ire)

1 points

Mika Torro (Fin)

27 points

Alex Moonen (Hol)

26 points

Nick Corgiat (USA)

25 points

Oleg Sylka (Ukr)

23 points

Johan Espenkrona

23 points

Marko Remlik (Est)

19 points

Sebastian Kurek (Pol)

17 points

Vladimir Fayra (Ukr)

16 points

Roman Grekov (Ukr)

12 points

Dainis Zageris (Lat)

11 points

Will Baggott (UK)

5 points