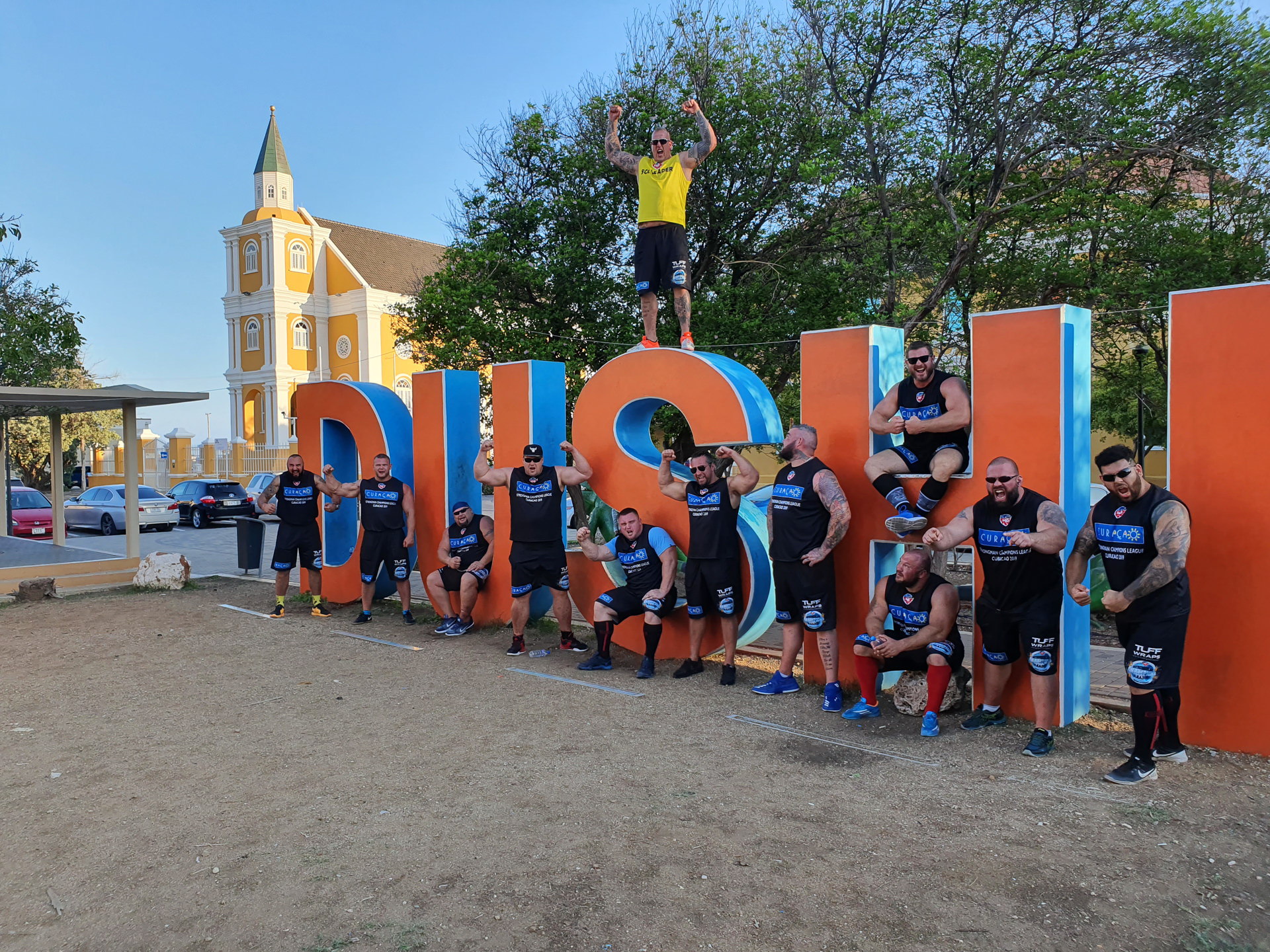 By Wout de Jong
SCL edition Curacao 2019 was a great event over the last weekend, twelve power boys from all over made a great show with at the end a literally and figuratively great winner, Kelvin de Ruiter from Holland, nickname the Flying Dutchman.
Number two Dainis Zageris, the World Champion of 2018 and the strong debutant Ervin Toots from Estonia were near the Strongest Man of Holland 2019 and World Champion Truckpull 2018 and 2019 on the stage, a short report.
Two events were held on Friday at the beach of beautiful resort Sunscape, the other three were held near the world famous floating bridge at Willemstad on Saturday night.
The first event, Weight for Height, with 4 cattle bell's (1 x 27 lbs – 1 x 35 lbs and 2 x 55 lbs) over 15,5 feet made clear at the warm-up that "Titan" Zagaris, the strong young man from the U.S.A. Jonathan Cotton, Finland's Mika "the Bull" Torro and England's pride Will Baggott were favorites.
At the end of the event two times World Champion Zageris took 12 points with 4 bell's in 8.00 !!! sec. followed by Cotton with 4 / 12.41 , Krzystof "Polish Power" Radzikowski with 4 / 12.59 and Torro with 4 / 14.25 sec.
The top four was followed by Oleg Sylka (winner of SCL Portugal) , the Giant from Ireland Sean O'Hagan, Toots and de Ruiter. For athletes Moonen, Herrick, Saybe and Baggot the first event became a disappointment.
The second event, Rocklift with stones of 198 lbs, 220 lbs, 231 lbs and 286 lbs, showed a result that no one before the event had expected, the struggle became a prey for the man who hated overhead events for years, the Strongest Man of Holland, Kelvin de Ruiter with 4 stones in just 19.81 sec., what a show of power. Second became another great young talent from Estonia Ervin Toots with 4/29.52 followed by Will "Johnny Depp" Baggot with 4/34.47, four time Strongest Man of Holland Alex Moonen with 4/39.00, Lucain "Shoulders" Herrick with 4/42.91 and Jonathan Cotton with 4/84.94.
Unfortunately Zageris, Sylka, Torro, Saybe and Radzikowski didn't finish the four massive stones.
At the end of day one Zagaris and Cotton were leading with 18 points followed by Toots and de Ruiter (17) and Moonen, Sylka and Torro with 13 points each.
Athletes Herrick, O'Hagan, Baggot and Sylka were fighting their own war because there were only three places left for the SCL's finals in November.
Event number three near the World famous Pontjesbrug in Willemstad in a beautiful night setting and with a crowd of locals and tourists, was the Car-deadlift with 770 lbs in 60 seconds.
Former World Champions Zageris (2016, 2018) and Radzikowski (2013, 2015) showed ones again their extreme power with Zageris on top with 15 attempts followed by Radzikowski with 14. The brothers in arms were followed by Baggot and de Ruiter (9), Herrick (8), Moonen (6), Cotton (6), Toots (5) and Sylka (2). The disappointment was four Saybe, O'Hagan and Torro (no lift).
In the rankings Zageris was leading (30) followed by de Ruiter (26,5) and Cotton (24,5).
Event four , the Truckpull with an appealing Oil truck of 35000 lbs over 82 feet , was in a great performance for the winner of SCL Holland, the Power of the South, Alex Moonen in 32.53 who defeated World Champion Truckpull de Ruiter (34.12) and Radzikowski (35.52).
Good points also for Zagaris (36.84), O'Hagan (38.47), Toots (38.70 ) and Cotton (38.84) , it was very close and all the competitors succeed all the way up to the finish line.
The last event was the loading of three unruly barrels of 220 lbs on a platform over 32 feet. The last heat between Zageris (39 p.) and de Ruiter (37,5) had to make the decision for the victory of SCL Curacao 2019.
Only 4 men did finish the event before the final heat, Ervin Toots ensured himself for place 3 with 12 points in 35.28 !!, followed by Oleg Sylka in 43.40 , Sean O'Hagan in 46.56 and Mika Torro in 58.50.
The final heat was for Kelvin de Ruiter in 38,43 (11 points) in front of Dainis Zageris in 44.09 (9 points)
The price giving ceremony was done Mrs. Jeanine de Wind of the Curacao Tourist Board of beautiful Curacao together with Paul Rabelink, Head of the organizing committee.
Final Result:
Kelvin de Ruiter / Holland

48,5

Dainis Zagaris / Latvia

48

Ervin Toots / Estonia

41

Alex Moonen / Holland

37

Jonathan Cotton / USA

36

Krzystof Radzikowski / Poland

32

Oleg Sylka / Ukraine

31

Sean O'Hagan / Ireland

26

Mika Torro / Finland

25

Will Baggot / U.K.

23,5

Lucain Herrick / USA

21

Nill Sayby / Honduras

9