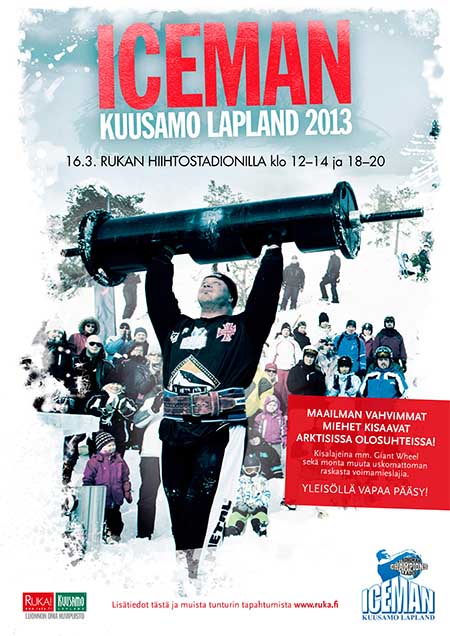 Forget the idea that strongman is only for the summer, with lots of sand and searing temperatures: when Ilkka Kinnunen developed the IceMan, he brought a whole new concept to strongman, featuring the power and beauty of a winter setting for the world's top professional strongman competitors.  The IceMan has no equal.  IronMind® | Artwork courtesy of SCL.
Strongman Champions League – the world's most active professional strongman tour – opens its 2013 season with the coolest strongman contest of them all: the IceMan, which is set in Finland's Lapland, just south of the Arctic Circle.
Here's how Ilkka Kinnunen describes it:
The IceMan: Snow, wind, outside venue, Arctic Circle, eight hard and heavy events. These are just few things about IceMan competition, which takes place again in Ruka-Kuusamo, Finland.
A total of 12 athletes will battle through a rough one-day competition. The date is set to 16th of March. The schedule goes that athletes will compete starting at noon through 4 events and continuing in the evening at 6 p.m. with 4 more events. 8 events in total of four hours, is this possible? Yes it is. Most events are double events (two men competing same time).
Zydrunas Savickas, who has won the IceMan all three times, won't be competing this time, but he will be present as a TV commentator.
"If you are looking for something totally different in 2013, extreme strongman action, you don't want to miss the IceMan IV," said Kinnunen.
More details about the athletes and events will be given soon so stay tuned.
by Randall J. Strossen, Ph.D. | ©2013 IronMind