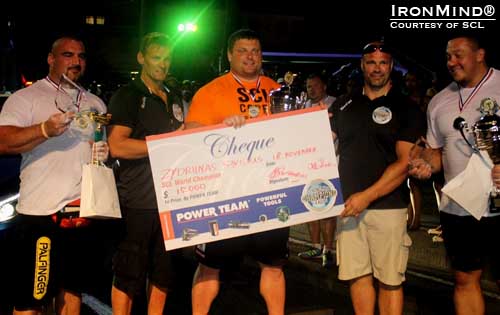 2012 champion Zydrunas Savickas receives a check for $15,000 from Marcel Mostert and Ilkka Kinnunen, cofounders of SCL.  IronMind® | Photo courtesy of SCL.
"After a very great final, last week in Martinique, with Zydrunas Savickas as the winner and overall SCL World Champion, we are proud to present the final rankings after 14 stages of the 2012 SCL season," Marcel Mostert told IronMind.
Same as we are proud that we could make this year so much high quality competitions all over the world, with the cooperation of our partners,sponsors and of course the athletes who did all a great job this year!
Some numbers for 2012:
60 athletes competed in SCL this year.
15 big international competitions we made, with China as a special championship
China was a competition with 20 countries competing, the biggest ever we made so far.
More than $300,000 we have paid to our athletes.
More than 10 World records have been broken in the SCL.
11 Guinness World records we broke, and still we are going to do some more in China next week.
We are now broadcasting in 89 countries.
We have made 51 Champions League competitions in the last 5 years of SCL existence and Zydrunas Savickas has won 27 of these SCL competitions and is 2 times overall SCL world champion.
We are all very proud on this. But, can we do it better? Yes we can. Our calendar for 2013 is already 90% full, and we are working on the last deals and options. Again we will have competitions in new countries, where we was never before. Next year we will have an even bigger price money for our athletes. We will gone broadcast in 100 countries! 14 SCL shows and 3 separate big international shows, will be made in 2013.
"Therefore, we welcome our champions again in the Strongman Champions League 2013: The league for champions, by champions," said Mostert.
Official Final points after 14 Stages (top 20)
Zydrunas Savickas (Lithuania)

275

Ervin Katona / Serbia

130

Misha Koklyaev / Russia

114

Lauri Nami / Estonia

76

Krzystof Radzikowski / Poland

75

Terry Hollands / England

73

Laurence Shahlaei / Iran

66

Jarno Hams / Holland

47

Martin Wildauer / Austria

33

Warrick Brant / Australia

32

Vytautas Lalas / Lithuania

30

Konstantin Ilin / Ukraine

30

Saulius Brusokas / Lithuania

28

Tomi Lotta / Finland

26

Paul Pirjol / Romania

26

Johannes Arsjo / Sweden

26

Rafal Kobylarz / Poland

25

Rob Frampton / England

22

Vidas Blekaitas / Lithuania

18

Dainis Zageris / Latvia

16
For a lot of photos and full details, please visit the official SCL website.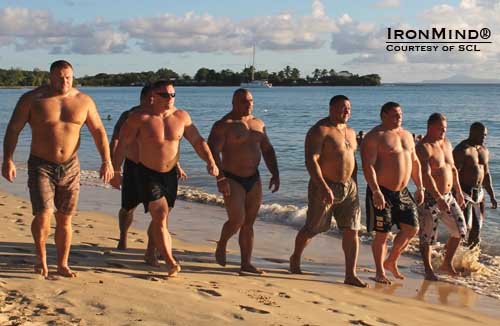 With the 2012 SCL finalists providing security, we'll bet that there were no problems on the beach in Martinique that day. IronMind® | Photo courtesy of SCL.
by Randall J. Strossen, Ph.D. | ©2012 IronMind