"MHP (Maximum Human Performance) has now become the official title sponsor for the biggest series in strongman – the 2013 MHP Strongman Champions League," SCL co-founder Marcel Mostert told IronMind today.
"SCL and MHP , both made  a big step forward for the Strongman sport in general by signing this great deal," said Mostert.
"MHP's corporate mission has always been to develop premier science-based, research-driven sports supplements to help athletes achieve their greatest physical potential. Over the years, MHP has introduced many innovations and breakthroughs in sports nutrition. MHP has become the most trusted brand and industry leader among world-class athletes, strongmen, pro bodybuilders, powerlifters and fitness enthusiasts alike – making its partnership with the SCL a perfect blend of world class performance and performance nutrition," continued the official press release.
"The SCL is the biggest strongman league worldwide, with over 15 stages (competitions) throughout the year in 15 different countries throughout Europe, Asia and the Caribbean. Every year, more than 60 strongman [athletes] compete in this professional league, which is also a qualifying road to the World's Strongest Man. The SCL is a premiere televised league, with its events broadcast to more than 1 billion households worldwide. Through this new partnership, MHP provides SCL the ability to develop more quality with powerful events and top athletes," Mostert said.
"Over the past few years, MHP has experienced significant growth in our international business," said Steve Downs, MHP Marketing Director.
"Our new partnership with the Strongman Champions League will showcase our brand in 15 countries on stage, in 89 countries on television, and solidify our role as the global leader in performance supplementation for world class athletes everywhere."
For more information about MHP, visit MHPSTRONG.com. To find out more about the SCL and the 2013 calendar of pro strongman events, log on to their website at STRONGMANCL.com.
"Watch for the world's biggest strongman league coming to your city this year!," said Mostert.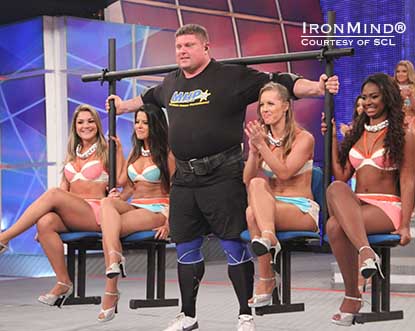 Zydrunas Savickas and the Super Yoke used when he appeared on the  Fausto Domingo show in Brazil last year.  IronMind® | Photo courtesy of SCL.
by Randall J. Strossen, Ph.D. | ©2013 IronMind