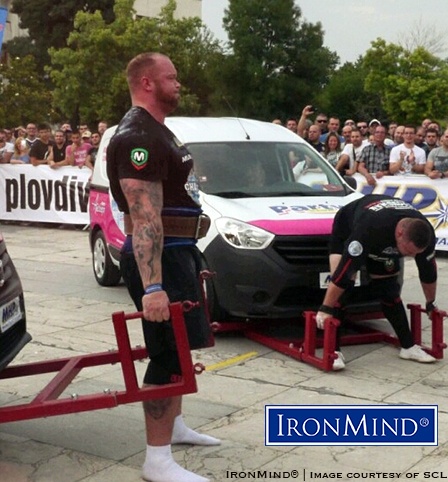 Hafthor Julius Bjornsson (left) squares off with Matjaz Belsak (right) in the deadlift at SCL Bulgaria, where The Mountain prevailed and took home another strongman title. IronMind® | Image courtesy of SCL
"With a temperature of 25 degrees (C) and a crowd of 5000 people, the stage was set and ready for a great strongman show in Bulgaria," Marcel Mostert reported to IronMind.
"The Mountain from Iceland [Hafthor Julius Bjornsson], the MHP/SCL leader Krszystof Radzikowski and the local hero Stojan Todorchev were a few of the ingredients that would make this a show to remember," said Mostert.
"Log lift, deadlift, farmer's walk, yoke race, Conan wheel and the Atlas stones ending at 195 kg, were the other ingredients—classic strongman events that test the strength of these powerful athletes and are enjoyed by the fans.
"It was a close battle between these 3 athletes and before the last event, the Atlas Stones, Hafthor Bjornsson and Krzsysztof Radzikowski were tied for the lead, Radzikowski felt a little pain in his right biceps and decided not to go for the maximum effort and he left the 195-kg stone sitting on the floor.
Hafthor was ready for showtime and slammed all 5 stones in 31.03 seconds for the leading time and enough to win the SCL title in Bulgaria.
It was a great show with a lot of fans who enjoyed the contest from start to finish.
Ervin Katona made his own history here as well. He did his last strongman show ever in his career. He stops after more than 250 competitions.
Unfortunately he had torn his biceps during this last show with the yoke race.
However, Ervin Katona will not be out of the picture in Strongman world. He returns coming weekend already in the MHP Strongman Champions League Latvia as the new official referee in SCL.
"We are all looking forward to his new job in Strongman and this represents another expansion the MHP Strongman Champions League team," said Mostert.
Here are the top-8 results, officially, for SCL-Bulgaria 2015:
Hafthor Bjornsson / Iceland

56

Krzysztof Radzikowski / Poland

53

Stojan Todorchev / Bulgaria

48.5

Matjaz Belsak / Slovenia

45

Velizar Mitov / Bulgaria

26

Ervin Katona / Serbia

19.5

Silviu Urdea / Romania

18

Simon Sulaiman / Syria

13
by Randall J. Strossen, Ph.D. | ©2015 IronMind