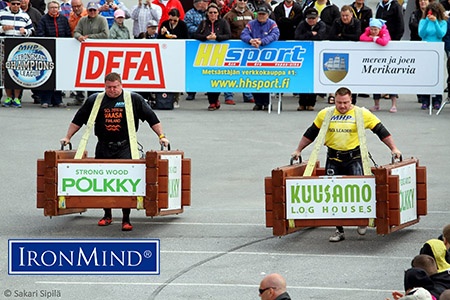 Zydrunas Savickas (left) and Krzysztof Radzikowski (right) in the House Carry at the 2015 SCL Finland competition. Radzikowski won the event as well as the overall title. IronMind® | ©Sakari Sipila photo
Facing a field of top professional strongman competitors that included Zydrunas Savickas and Hafthor Julius Björnsson proved to be no problem for Krzysztof Radzikowski in Merikarvia, Finland for what was the fourth stage of the MHP SCL series.
MHP SCL: Krzysztof Radzikowski Takes the 4th Stage
by Ilkka Kinnunen
Co-founder, Strongman Champions League
The competition was a two-day event, with a total of six disciplines. The first day opened with the athletes doing a heavy Bus Pull, uphill, with a harness and rope. The best time was turned in by Hafthor Julius Björnsson, 32.89 seconds. Zydrunas Savickas was second, 34.35 seconds and Dainis Zageris came in third (42.96 seconds).
Next was the Overhead Medley for time: 150-kg Log, 100-kg Giant Dumbbell, and 175-kg Log. The winner, of course, was Zydrunas Savickas with a very fast time 16.03 seconds. Second was Krzyzsztof Radzikowski (18.48 seconds) and third was Rauno Heinla (21.49 seconds).
The last event of the first day was the House Carry: 452 kg with a distance of 25 m. The winner Krzysztof Radzikowski (14.43 seconds). Chris Gearing was second (16.56 seconds) and Zydrunas Savickas was third (16.61 seconds).
Zydrunas Savickas lead after the first day (with 33 points), followed by Krzysztof Radzikowski (31points) and Hafthor Julius Björnsson (27 points).
Heavy rain with a cold, hard wind made the conditions very challenging. However, these are the strongest men, the real Vikings who don't care about the weather—they are ready even in snow. Sack Loading was the first battle, with five sacks weighing 110 kg and a loading distance of 7 meters each. The best time belonged to Hafthor Julius Björnsson (29.86 seconds), with Rauno Heinla second (30.47 seconds) and Krzysztof Radzikowski thirs (31.75 seconds). Next up was the Front Hold with 25-kg cylinders and a back support. The winner Krzysztof Radzikowski (56.88 seconds). Alex Moonen was second (55.41 seconds) and Rauno Heinla was third (55.06 seconds).
The last event in competition Frame Walk (330 kg) and Yoke (430 kg) Medley, with a total distance of 40 m. This was an extremely great battle between Krzysztof Radzikowski and Zydrunas Savickas, and Krzysztof beat Savickas by 3 hundredths of a second, with time of 26.47 seconds. Rauno Heinla was third (26.93 seconds).
Final Results
Krzysztof Radzikowski 65
Zydrunas Savickas

60

Rauno Heinla

56

Hafthor Julius Björnsson

50

Dainis Zageris

45

Alex Moonen

37

Chris Gearing

36

Juha Matti Järvi

32 (injured)

Antti Mourujärvi

28

Aleksandr Kurak

23

Marcos Ferrari

19

Ben Rucksthul

15 (injured)
SCL Finland Organization thanks for all athletes, officials, event assistants, sponsors, the City of Merikarvia, SCL TV crew and all the others who made the competition happen.
Next year, SCL Finland goes back to Vaasa.
by Randall J. Strossen, Ph.D. | ©2015 IronMind