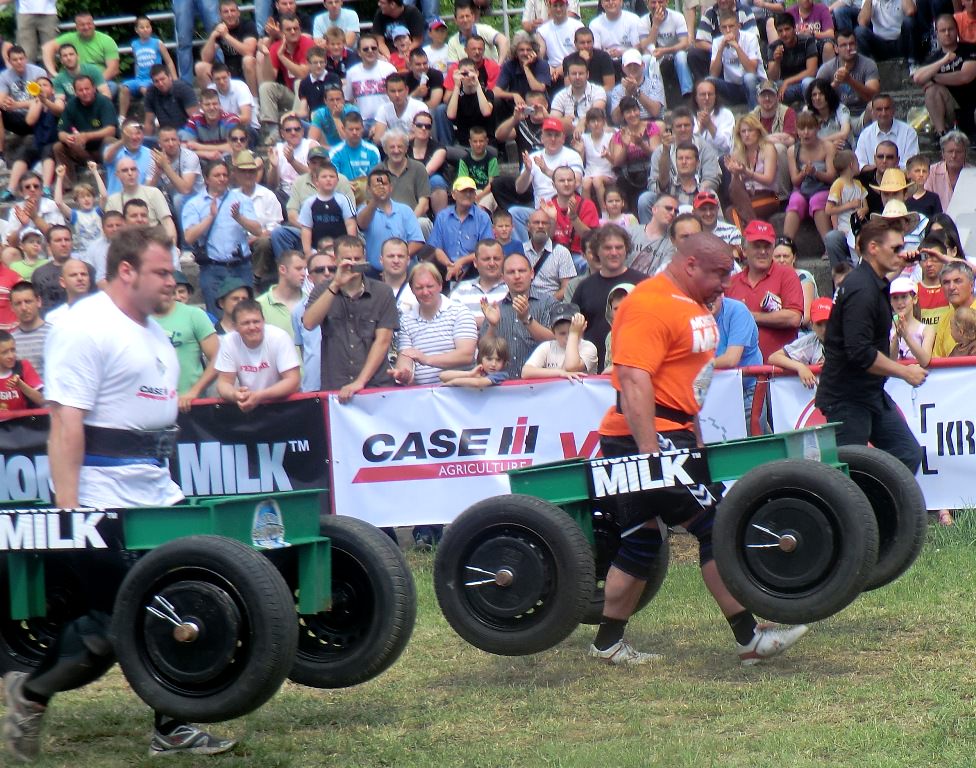 Johannes Arsjo (left) finished second to Ervin Katona (right) in the Strongman Champions League Serbia competition this past weekend. IronMind® | Courtesy of SCL.
Ervin Katona won the third stage in SCL 2011. He won three events and broke the world record on the Viking press, with 150 kg for 22 reps! Very impressive. Johannes Arsjo from Sweden took the second place and Jimmy Laureys from Belgium the third place overall. Jimmy is coming slowly into his best shape ever. Martin Wildauer, the deadlift kid, just missed the podium by 1 point.
Here are the overall results for the top 8:
Ervin Katona / Serbia

58.0

Johannes Arsjo / Sweden

49.5

Jimmy Laureys / Belgium

40.5

Martin Wildauer / Austria

39.0

Agris Kazelniks / Latvia

38.5

Sergei Romanchuk / Ukraine

34.5

Akos Nagy / Hungary

33.5

Matt Wanat / USA

33.0
There was a big tractor expo in Novi Sad, who sponsored mainly our SCL there in cooperation with CASE tractors. The people there did a great job and want to see us next year again! Hopefully the tractor to pull will be a little bit lighter next year, as the pull was a real killer for the athletes. Yes, even strongman have a limit, ha ha!
Ervin Katona is also taking the lead now in the overall Strongman Champions League ranking," said Mostert, with 52 points, just ahead of Zydrunas Savickas with 50 points. So, we are ready for the fourth stage of SCL , on June 4 in Johannesburg-Pretoria, the SCL South Africa. The strongman champions league train rides again!
Stay tuned, and watch also this coming Friday, May 27, on Eurosport, the SCL Germany–FIBO POWER," Mostert said.
by Randall J. Strossen, Ph.D. | ©2011 IronMind