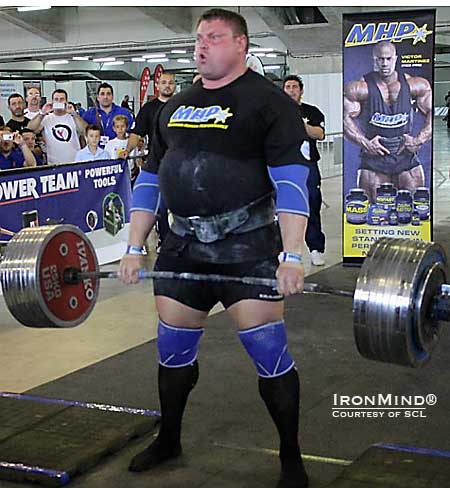 In a field of supercharged deadlifting, Zydrunas Savickas won the event with a 425-kg pull.  IronMind® | Courtesy of SCL.
Describing Zydrunas Savickas in action at SCL Spain/Arnold-Europe, Marcel Mostert told IronMind, "Again the 'master of strongman' beat the whole field."
The scene was the inaugural Arnold Europe, held in Madrid, Spain—the latest mid-level expo to include strongman in its program, and this one boasted some of the top names on the professional strongman circuit in a six-event strongman competition over two days.
Mostert said, "It was strong field, with some serious deadlifts in here.
"Because of some problems with the equipment for the frame deadlift, we borrowed a real bar with Eleiko plates from our friends from the powerlifting federation in Spain. So, with a normal bar, we had 6 out of 10 competitors who got to the 400-kg barrier.  An outstanding performance of the athletes.
"Some highlights:  Zydrunas won the deadlift with 425 kg, followed by Misha Koklyaev with 422.5 kg, Vytautas Lalas with 420 and Krzystof Radzikowski in 4th place with 415 kg.  Ervin Katona and Mike Jenkins got both 400 kg.
"Imagine, that you get just 7th place with still a very good deadlift of 390 kg, as Hafthor Bjornson did. The level was high!
"The Power Team Forward Hold, holding 2 cylinders of 12.5 kg (25 kg  total) was won by Mike Burke, the new USA champion, with 70.17 seconds.  Mike Jenkins and Ervin Katona got second and third in this event with 69 and 68 seconds.  All very close!
"The Giant Dumbbell was won by Konstantin Ilin and Vytautas Lalas with 11 reps, followed by Mike Burke with 10 reps.
"The prize awards were given by Mr Arnold Schwarzenegger himself with a US$10,000 check for the winner Zydrunas Savickas, sponsored by MHP.
"It was a nice cooperation between Arnolds/ASC/Strongman Champions League and MHP, who made this contest all happen," said Mostert.
Here are the official final results:
Zydrunas Savickas (Lithuania)

47.0

Krzysztof Radzikowski (Poland)

44.5

Vytautas Lalas (Lithuania)

42.5

Mike Burke (USA)

37.5

Misha Koklyaev (Russia)

37.0

Hafthor Bjornsson (Iceland)

35.0

Mike Jenkins (USA)

33.5

Ervin Katona (Serbia)

22.0

Konstantin Ilin (Ukraine)

16.0

Lauri Nami (Estonia)

14.0
by Randall J. Strossen, Ph.D. | ©2012 IronMind