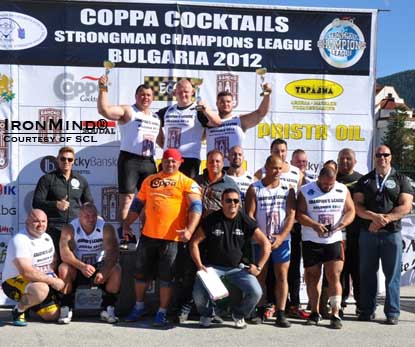 SCL–Bulgaria was won by Rafal Koblarz, possibly a strongman star of the future.  IronMind® | Photo courtesy of SCL.
"Is there a new Polish strongman star rising?" asks Marcel Mostert as Rafal Kobylarz won the Coppa Cocktails Strongman Champions League Bulgaria, held last weekend.
"With Konstantin Ilin in the Coppa leader shirt as the highest ranked strongman in this event, along with Paul Pirjol, Rob Frampton and runner-up of 2012, Saulius Brusokas, we did expect the winner would come of these men."But nobody expected Rafal Kobylarz as the surprise winner.  Wow, strongman can be still surprising, even for us.
"He came silently, slaughtered the all strongman that day with a bang, and went silently back to his country, Poland," said Mostert of the 1.98 m tall, 150-kg, 23-year old strongman."For example: The farmer's walk of 160 kg over 44 m with a turn, he did in 32 seconds.  Not bad for a newcomer."Also, the Atlas stones with 180 kg at the stone ring, he finished in a solid 24 seconds."Well done from Rafal and we are sure we will hear more from him soon," said Mostert.
"Saulius  Brusokas and Paul Pirjol came second and third in the final result, in a beautiful 25 degrees sunny weather with the great mountains from Bansko in the background.  With thanks to Miron Jordanov from the Bulgarian Strongman federation and his crew it made it  a very nice weekend.
"Now we are moving on for the next stage Strongman Champions League, October 6–7, the SCL Lithuania in Vilnius in the first official Savickas Classic. Will be an interesting weekend then again."
Final results:
Rafal Kobylarz (Poland)

47.0

Saulius Brusokas (Lithuania)

45.0

Paul Pirjol (Romana)

45.0

Konstantin Ilin (Ukraine)

43.0

Rob Frampton (England)

36.0

Dainis Zageris (Latvia)

35.5
Also, on Friday, September 28, SCL–Poland will be broadcast on Eurosport at 20.00 CET.
by Randall J. Strossen, Ph.D. | ©2012 IronMind