Vytautus Lalas on the deadlift for reps at the SCL/FIBO strongman contest.  Lalas, who has been on a roll in the strongman world, won this competition.  IronMind® | Photo courtesy of SCL.
"Last weekend, in a fully-packed arena, the vice world champion Vytautas Lalas won the FIBO/MHP Strongman Champions League in Germany," Marcel Mostert reported to IronMind.
It was not easy for him, as after 5 events, the big Icelander 'Thor' was leading by half a point on Vytautas.
Lalas impressed already at the 'Giant Dumbbell Lift' with a new record of 13 reps (90 Kg), but he made a mistake on the Crucifix. Therefore it was the whole day an interesting fight for winning the FIBO title.
"Until the last event, the deadlift for reps with 350 kg, Lalas showed his absolute power and did 9 reps, equal with Martin Wildauer 'The Deadlift Kid.' Thor couldn't do more than 6 reps and finished therefore 2nd overall in the competition. Krzysztof, the leader in the MHP Strongman Champions League, finished 3rd overall. With Laurence Shahlaei on 4th, Ervin Katona on 5th and Misha Koklyaev on 6th place, we had an extremely strong top 6 finish with 14 competitors in total.
"The FIBO this year was on a new place in Cologne, as the former expo site became too small! On Saturday, when the Strongman show was running, there were so much people that they stopped sell tickets at 3 pm. It was totally overcrowded! So, again a great success and we look forward to be back next year! Many thanks to Heinz Ollesch and Jens Thieme for their efforts and help in our Strongman Champions League," said Mostert.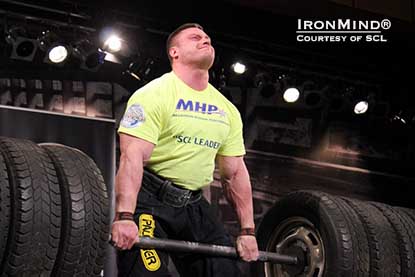 Krzysztof Radzikowski is the season leader so far in the 2013 MHP SCL strongman series.  IronMind® |  Photo courtesy of SCL.
Final results, top 6:
Vytautas Lalas (Lithuania)

71.5

Hafthor Julius Bjornsson (Iceland)

69.0

Krzyzstof Radzikowski (Poland)

64.5

Laurence Shahlaei (Iran)

58.0

Ervin Katona (Serbia)

56.0

Misha Koklyaev (Russia)

55.0
Mostert also told IronMind, "This coming Friday, 19 April, the first SCL competition from 2013, the SCL LAPLAND, will be broadcast on Eurosport 23.00 hours CET time."
by Randall J. Strossen, Ph.D. | ©2013 IronMind