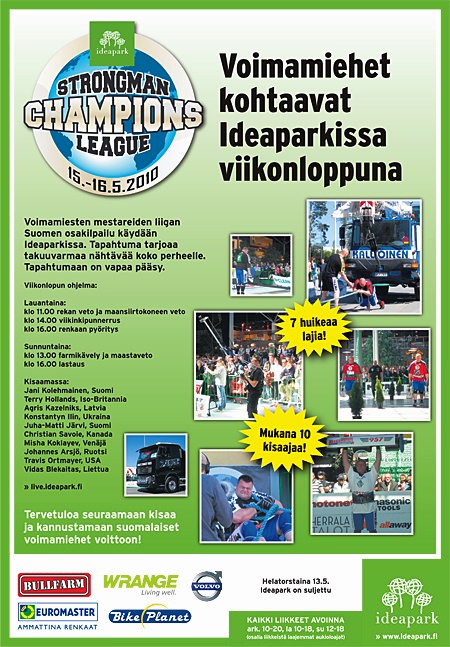 "Andrus Murumets won the Strongman Champions League competition at Ideapark last year, but who will win this year?," contest promoter Ilkka Kinnunen asked.
Ideapark is the venue for the 2010 Strongman Champions League – Finland competition.
"The list of the athletes is strong," Kinnunen told IronMind, as he ran through the lineup of top international strongman competitors ready to make their mark in Finland this weekend.
The start list includes three guys who have gotten off to a strong start already in the 2010 Strongman Champions League series:
• Misha Kokylaev—winner of SCL – FIBO
• Terry Hollands—overall SCL leader; runnerup in the Iceman Challenge and SCL – FIBO
• Travis Ortmayer—third in SCL – FIBO
And not to be taken lightly are such challengers as Vidas Blekaitis (runnerup at in SCL – Ideapark last year), Kinnunen pointed out.  A total of ten athletes will compete for the title.
"On Sunday evening we will see who will win 2010 SCL Finland," Kinnunen said.
by Randall J. Strossen, Ph.D. | ©2011 IronMind