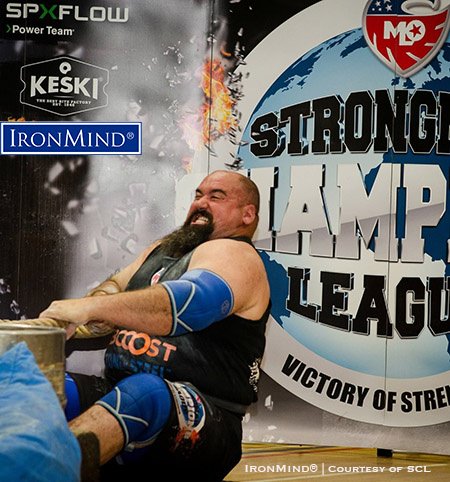 Eric Dawson (USA) notched his second Strongman Champions League win so far this year as he took the title at SCL England. IronMind® | Photo courtesy of SCL
American strongman Eric Dawson is on a roll: he just won his second SCL contest of the 2016 contest.
Eric Dawson wins SCL England 2016 and Breaks World Record
by Marcel Mostert
Co-founder, Strongman Champions League (SCL)
The MLO Strongman Champions League England was won by Eric Dawson, who took his second win in SCL this year. Again a very solid win from Eric, who was on equal points until the last event with Mateusz Baron from Poland.
Krzysztof Radzikowski was coaching Mateusz, because Krzysztof himself is still coming back from an injury, and will start to compete again at the SCL Curacao on 1 October.
The last event, the Stones of Steel, was death for Mateusz, and he lost even his second place overall to Martin Wildauer from Austria. On that same event, Eric Dawson and Stoyan Todorchev, both made a world record with 183 kg over the bar.
This stone is completely from iron, and can't be touched with tacky or other support, and therefore very difficult. The stone is custom made by Mike Bartos and the previous record was from Martins Lincis, from the USA, with 181 kg. An extra 1000 USD was given for this world record.
For Stoyan it was already his fourth world record this year, and he is climbing to place nr 3 in the overall SCL ranking, which leads to the world title 2016.
Martin Wildauer took second place overall and Mateusz Baron third.
Many thanks we have for Toby George and his team from the Strongman Sanctuary—they are really beautiful people to work with and we hope to see them again next year.
Here are the top 12 results SCL England:
Place
Athlete
Nationality
Contest
Points
Ranking
Points
1.
Eric Dawson
USA
61.5
25
2.
Martin Wildauer
Austria
51.5
18
3.
Mateusz Baron
Poland
49.0
15
4.
Stoyan Todorchev
Bulgaria
48.5
12
5.
Lauri Nami
Estonia
40.5
10
6.
Mark Jeanes
Wales
40.5
 8
7.
Paul Smith
UK
27.0
 6
8.
Daniel Gracia
Gibralter
25.0
 5
9.
Sean O'Hagan
Ireland
24.5
 4
10.
Dainis Zageris
Latvia
19.0
 2
11.
Aaron Page
UK
19.0
 2
12.
Alex Moonen
Holland
  8.0
 1
This coming weekend, the MLO Strongman Champions League train arrives in Finland: 21–22 August in Vaasa. We are ready for stage 9 and it will be a 2-day competition, also with 12 strong international athletes.
Strongman fans can follow both days on our on-demand TV channel, 14.00 CET – www.strongmanworldseries.comhttp://www.strongmanworldseries.com and www.strongmanworldserieslive.com