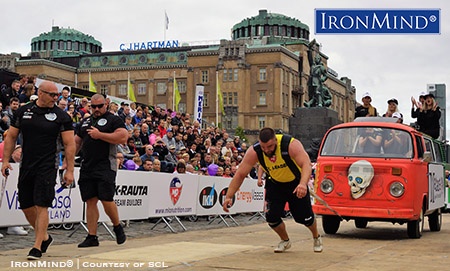 Aivars Smaukstelis, winner of SCL Latvia and SCL Serbia, on the Mini Bus Pull at SCL Finland. IronMind® | Photo courtesy of SCL
"'Veni,Vidi, Vici' as they say, and Canada's Simon Bourdeau must have taken it to heart as he came, he saw, and he won his very first SCL competition ever," Ilkka Kinnunen told IronMind today.
He told us even before that he came for the title — MLO Strongman Champions League Finland, —and would settle for nothing less.
But still, it was really a very tight battle until the end, this last weekend in Vaasa (Finland).
In a two-day event with in total 7 disciplines, the Canadian Simon Bourdeau took the victory just one point ahead of the Latvian Aivars Smaukstelis, who won also this year already 2 SCL competitions, and one and half points before the Estonian Lauri Nämi.
The first day in sunny Vaasa brought around four thousand people to watch when the strongmen started their battle in 4 hard events. The first event was Mini Bus pull which was kind of warm up for harder events to come. Winner in first event was the Irish Giant Sean O'Hagan, nearly 200 kg heavy and 212 cm [nearly 7 ft.] tall.
In the second event, the Overhead Medley, athletes had to lift two Logs and a Giant Dumbbell of 100 kg at the end. This was also a timed event and the fastest man here was the current Log Lift World Champion, Vidas Blekaitis. Second was Aivars Smaukstelis and Lauri Nämi was third.
In third event, the House Frame Carry and Cross Carry Medley, was a challenge — especially to bring back the 170-kg cross was not easy for the athletes. The winner here was Aivars Smaukstelis. Second was Lauri Nämi and third was Simon Bourdeau.
The last event of the first day was the Forward Hold: Vidas Blekaitis won, the Finnish Viking Antti Mourujärvi was second and and Simon Bourdeau was third.
The second day started in little rain, but it did not scare the public. Before the first event took place the area was again full of cheering people, which is typical in Finland, where the people love strongman.
There were three events on the second day, starting with Hercules Hold with cars. On this event we could clearly see that Simon is one of the best grip people in the world. He was standing easy the longest time, so that is promising for the future, especially when he can compete against Mr. Grip at the moment, Stoyan Todorchev from Bulgaria. Second place here was Antti Mourujärvi and third was the French strongman, Aurelien Le Jeune.
After that, the Deadlift Medley was won by another Finnish athlete, Jarno Kirsela, in one of his best and favorite events. He took the victory over Simon Bourdeau and UK Junior Champion Paul Smith. Paul Smith is only 22 years, but still did the 400 kg deadlift easily.
The Frame Carry and Yoke Medley was the final event and there were three athletes tied at 45 points, chasing Simon who had 3 points more. All very exciting and interesting. Aivars Smaukstelis took first, second was Lauri Nämi and third was Vidas Blekaitis.
This gave the win overall to Simon and Aivars went from third to second place in the end.
| | | | | |
| --- | --- | --- | --- | --- |
| Pts. | Athlete | Country | Contest | Overall |
| 1. | SIMON BURDEAU | Canada | 57.0 | 25 |
| 2. | AIVARS SMAUKSTELIS | Latvia | 56.0 | 18 |
| 3. | LAURI NÄMI | Estonia | 55.5 | 15 |
| 4. | VIDAS BLEKAITIS | Lithuania | 54.0 | 12 |
| 5. | ANTTI MOURUJÄRVI | Finland | 45.5 | 10 |
| 6. | JARNO KIRSELÄ | Finland | 42.0 |  8 |
| 7. | NIKO VESTERINEN | Finland | 35.5 |  6 |
| 8. | PAUL SMITH | UK | 34.0 |  5 |
| 9. | SEAN O'HAGAN | Ireland | 31.5 |  4 |
| 10. | AURELIEN LE JEUNE | France | 28.5 |  3 |
The show was really fantastic and exciting , and we look forward to be in Finland again with the MLO Strongman Champions League.
But saying that, in just three weeks' time we will do the World's Strongest Man under 90 and 105 kg," said Kinnunen, who, along with Marcel Mostert, founded the 105-kg strongman category for a 2005 contest in China, as part of an IFSA initiative.
"This year it will be at 9 and 10 September in Kokkola, Finland and it will be televised and broadcast under the MLO Strongman Champions League World Championships, so stay tuned to IronMind for more news," said Kinnunen.