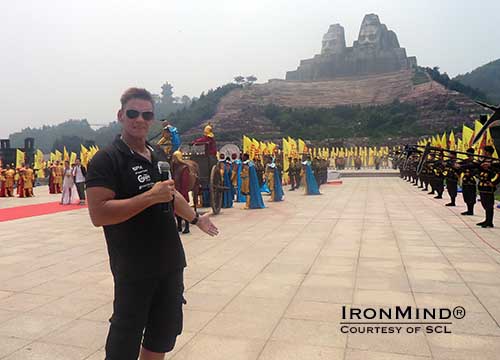 Marcel Mostert presents the spectacular staging for the SCL team competition recently held in China.  IronMind® | Photo courtesy of SCL.
"Spectacular!," said Marcel Mostert:  "In our first SCL team competition, with 31 countries competing in total, the MHP Strongman Champions League had a major hit in China with 95 million TV viewers."
"Five episodes of 1 hour have been broadcast there last week and it gave an average view of 95 million viewers on CCTV 1, the largest channel in China," Mostert said.
The brand-new format worked perfectly. The people loved to see how some special events were done by outstanding athletes who, for example, build a pyramid, pulled an airplane or pulled each other into the water—everyone loved the way the athletes were cheering for their teammates and enjoying.
It's full entertainment combined with strength and tactics completed with a show of fireworks, boats, knights, dancers, etc.
This format is working and the bosses of CCTV 1 wants us back next year for an even bigger event again. SCL is very proud and happy that it worked out like this and we are looking forward to making a big bang there again next year.
We thank our athletes for all the efforts they also put in here and will invite them for the next SCL in China.
All full episodes can be viewed now on our website at the icon TRAILERS 2013. Be sure to have a look, it's a format never done before in strongman.
Also, for all the fans, the first broadcast of SCL HOLLAND 2013 can be seen coming Friday 16 August at Eurosport International, 23.15 hours," said Mostert.
by Randall J. Strossen, Ph.D. | ©2013 IronMind