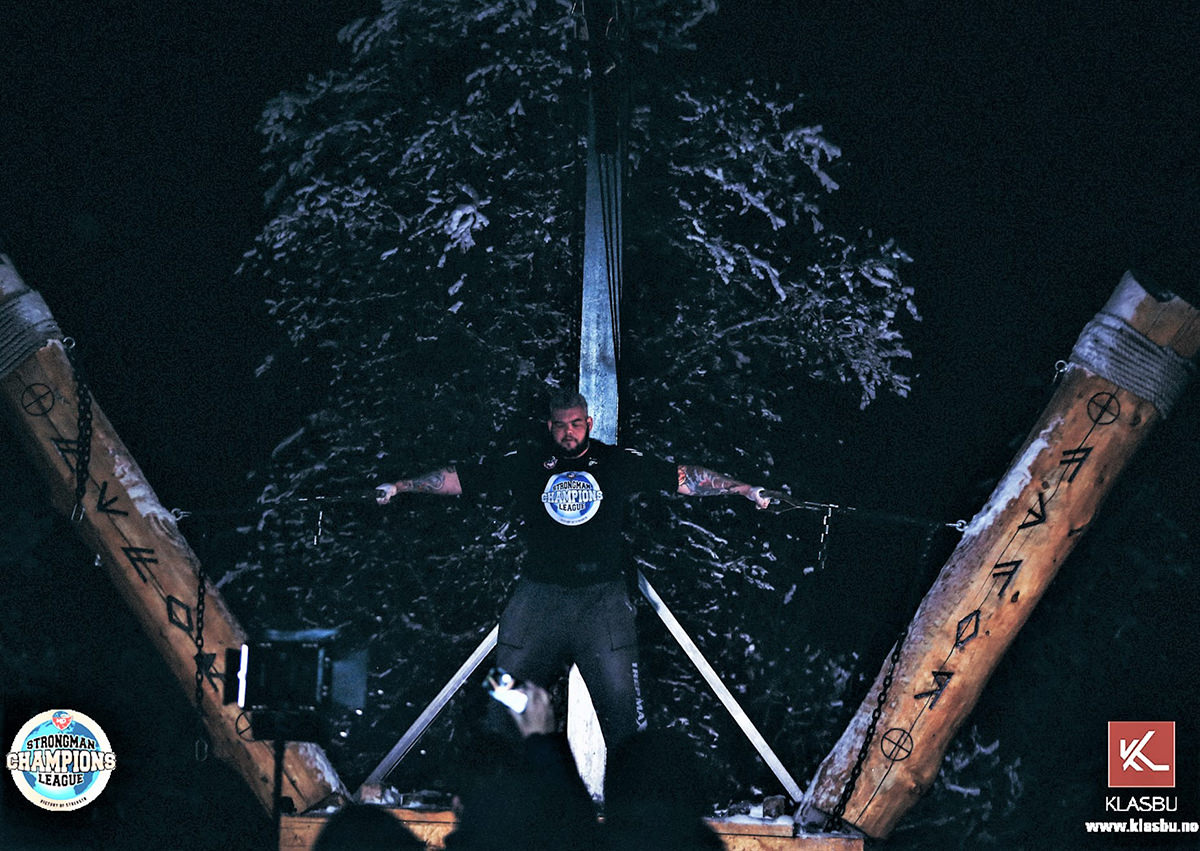 The year is 2013.
We had seen it all.
Hundreds of Strongman athletes,
Thousands of Strongman competitions,
A million yards of Farmers Walks and Yoke Races,
The organizers from nowadays sat down and talked to each other and thinking:
"how about taking this to the next level?"
So there was found a venue in the mountains that are willing to build the most brutal equipment ever. We are going to put on an international competition there! In mid-winter! While it is freezing cold! And we are going to have them complete outdoors!"
Everybody than was enthusiastic and ready to produce the first World Strongest Viking ever!
The MLO Strongman Champions League was involved to get it all on a wider TV platform, all over the World.
Since then the level of the competition has increased.
Title holders so far are Hafthor Bjornson (2014/2015 ), JF Caron (2016/2017) and Krzysztof Radzikowski (2018 and 2019).
Nowadays, the events has gotten heavier, athletes have gotten tougher, equipment has gotten huge and fantastic solid, and last, but by far not least;
The MLO / SCL Norway – World's Strongest Viking are now held in the coldest months, in January.
January 24th to 26th are the dates for this year's competition. 14 of the strongest men in the world are once again coming to beautiful Fefor Hotel in the midst of Norway. Some of them had competed at the arena before, other has never been to Norway before. Some of them are used to cold weather, others are from parts of the world where the sun always shines. What they all have in common is that they have dreamed about doing this competition, and now we're just days away from the first event.
The athletes who will compete in the marvelous Fefor Arena are:
Aivars Smaukstelis – Latvia
Jonathan Cotton – USA
Tyler Cotton – USA
Stefan Sekej – Norway
Mika Törrö – Finland
Kelvin De Ruiter – Holland
Ervin Toots – Estonia
Jørn Erik Bolstad – Norway
Odd Inge Kvernberg – Norway
Johan Espenkrona – Sweden
Sean O'Hagan – Ireland
Zake Muluzi – United Kingdom
Stefan Sölvi Petursson – Iceland
Ole Martin Kristiansen – Norway
As always first event is held Friday night. This year the first event is a big secret until first lifter, but we can promise that the event is one of the coolest lifts you have ever seen in a strongman competition.
Saturday morning the athletes will be back out on the arena, no matter how the weather is. The events they will fight through are Hercules Hold, Viking Press, Fingal Fingers and Viking Boat Pull. Last year there were set world records in Hercules Hold and Fingal Fingers, so the athlete's goals are to break those records. Last year's winner, Krzysztof Radzikowski, sat the world record in Viking Press with 15 reps on 155 kg in 2018. Maybe one of this year's athletes can beat that? We know that the Norwegian giant, Ole Martin Kristiansen, is a very strong presser, and something tells us that he aims for more reps than Krzysztof had.
In this field of athletes, it isn't easy to be at the top in each event, so it's the one who are most consistent who will be able to claim the title World's Strongest Viking 2020.
Unfortunately the 2 times title holder Krzysztof Radzikowski from Poland will not be there, because he just got operated on his thumb.
Who takes the title than? … We will know January 26th at Fefor in Vinstra.
See you there!