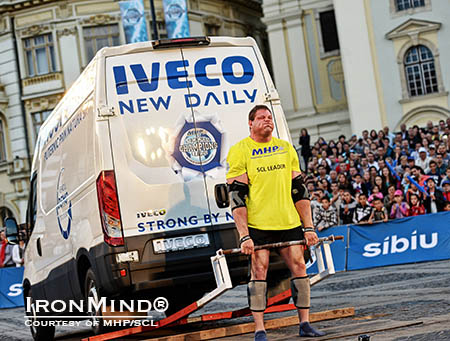 Austria's Martin Wildauer comes into the MHP SCL finals as the season leader. IronMind® | Photo courtesy of MHP/SCL
This coming weekend, November 14–15, the finals of the 2014 MHP Strongman Champions League will be held in Kuala Lumpur, Malaysia and Marcel Mostert has set the stage for IronMind.
"The strongest men on the planet will fight for the ultimate crown of world champion," said Mostert.  "After two days and two episodes in Malaysia, and a total of 16 stages all over the world, who wears the crown will be decided, and, on top of the normal prize money, an extra prize of $15,000 (USD) will be given, sponsored by MHP.
"The Top 10 athletes by SCL ranking in 2014, complete with a few wildcards, gives a field of 14 strongmen.
"Big names such as Hafthor Bjornsson, Eddie Hall, Martin Wildauer, Ervin Katona, J.F. Caron and the 2013 world title defender, Krzysztof Radzikowski from Poland will be all there.
"Together with the oldest athlete, Vidas Blekaitis from Lithuania, and the youngest new talent, 21-year old Matjaz Belsak from Slovenia. They will also fight for the last title, the SCL Malaysia 2014.
"Unfortunately Žydrūnas Savickas and Brian Shaw couldn't come here, despite a wild card invitation by the organization.
"Double points will be given in the finals, which means that the top three still can change for the overall title. Martin Wildauer is the leader at the moment, close followed by Krzysztof Radzikowski and Ervin Katona.  A very exciting and great close finish is expected in Kuala Lumpur.
Competitor / Country / SCL Points:
Martin Wildauer – Austria

190

Krzysztof Radzikowski – Poland

165

Ervin Katona – Serbia

163

Dainis Zageris – Latvia

116

Lauri Nami – Estonia

103

Hafthor Julius Bjornson – Iceland

75

Matjaz Belsak – Slovenia

62

Vidas Blekaitas – Lithuania

61

Alex Moonen – Holland

50

10. JF Caron – Canada

13

Ole Martin Hansen – Norway

13

Eddie Hall – England

12

LV Xiang – China

0

Zarol Alfiyan – Malaysia

0
The ultimate final will be done over 7 cruelly heavy events:
Day 1
Bus Pull (harness and rope)
Forward Hold (time)
Car Deadlift (reps)
Day 2
Wheel flip
Truck Pull (hand over hand)
Farmer's Walk
Log Lift (reps)
Who will be the new SCL World Champion 2014, in the MHP Strongman Champions League seventh season and will stand in the same line as the former title holders such as Žydrūnas Savickas, Terry Hollands, Ervin Katona Andrus Murumets and Krzysztof Radzikowski?
"Come and see, November 14 and 15, at Dataran Merdeka, Kuala Lumpur, Malaysia. It will be a spectacular show with an even more spectacular closing ceremony," said Mostert.
by Randall J. Strossen, Ph.D. | ©2014 IronMind