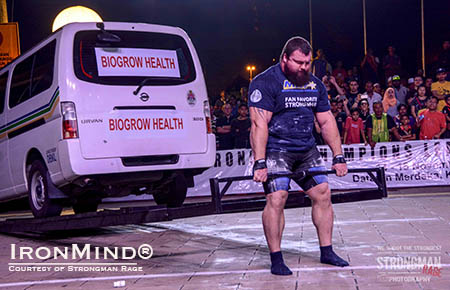 Eddie Hall on the Car Deadlift for reps at the MHP Strongman Champions League finals yesterday. IronMind® | Photo courtesy of Aryn Lockhart/Strongman Rage
Eddie Hall captured the lead in the first day of competition in the MHP Strongman Champions League finals and Aryn Lockhart called the action for IronMind.
Eddie Hall Takes the Lead After Day One of the Strongman Champions League Final
by Aryn Lockhart
Finally after seven intense months and sixteen world class competitions throughout the world, the MHP Strongman Champions League Final has arrived. Fourteen athletes travelled from every corner of the world to Kuala Lumpar to take part in this two day competition. The first day of competition is complete. The events for day one included the front hold, van deadlift, and the bus pull.
The athletes are in top form and battling with the fiercest intensity to crown the Strongman Champions League victor. The final, which is worth double points, will determine the world champion as there are several contenders fighting over the top position.
"Everything will be decided with this competition," Marcel Mostert explained.  Currently Martin Wildauer is in first, but Krzysztof Radzikowski and Ervin Katona have their eyes on the prize too. Strategies are in motion and the battle has begun.
In the first day of competition, it was Eddie Hall who took first place in the front hold with an amazing 1.09 minutes. With 15 kg in each hand and suffering through the thick, humid air, the athletes fought through each second.
The second event was an extremely heavy van deadlift. As predicted, Wildauer went to work in his best discipline tying for first with J.F. Caron with seven reps.
The final event of the evening was the bus pull. Pulling the 18 ton tour bus with a harness and rope, Thor Bjornsson used his viking size to win this event. Martin Wildauer was injured during this event, but still has determination for the competition.
When the thick air cleared, it was Eddie Hall who took the lead for the day. Wildauer's injury will undoubtedly make the events more challenging for him tomorrow. As Martin Wildauer is the current overall leader, his injury makes the outcome for tomorrow's events even more uncertain.
Stay tuned as the final results will be determined tomorrow after day two of the MHP Strongman Champions League final comes to a close.
Competitor / Country / SCL Points
Eddie Hall – England

34.5

Vidas Blekaitas – Lithuania

30

Krzysztof Radzikowski – Poland

30

Hafthor Julius Bjornson – Iceland

29.5

J.F. Caron – Canada

27.5

Martin Wildauer – Austria

27

Dainis Zagaris – Latvia

27

Ole Martin Hansen – Norway

26

Ervin Katona – Serbia

23

Alex Moonen – Netherlands

19.5

Lauri Nami – Estonia

15

Matjaz Belsak – Slovenia

8

LV Xiang – China

5

Zarol Alfiyan – Malaysia

3
by Randall J. Strossen, Ph.D. | ©2014 IronMind