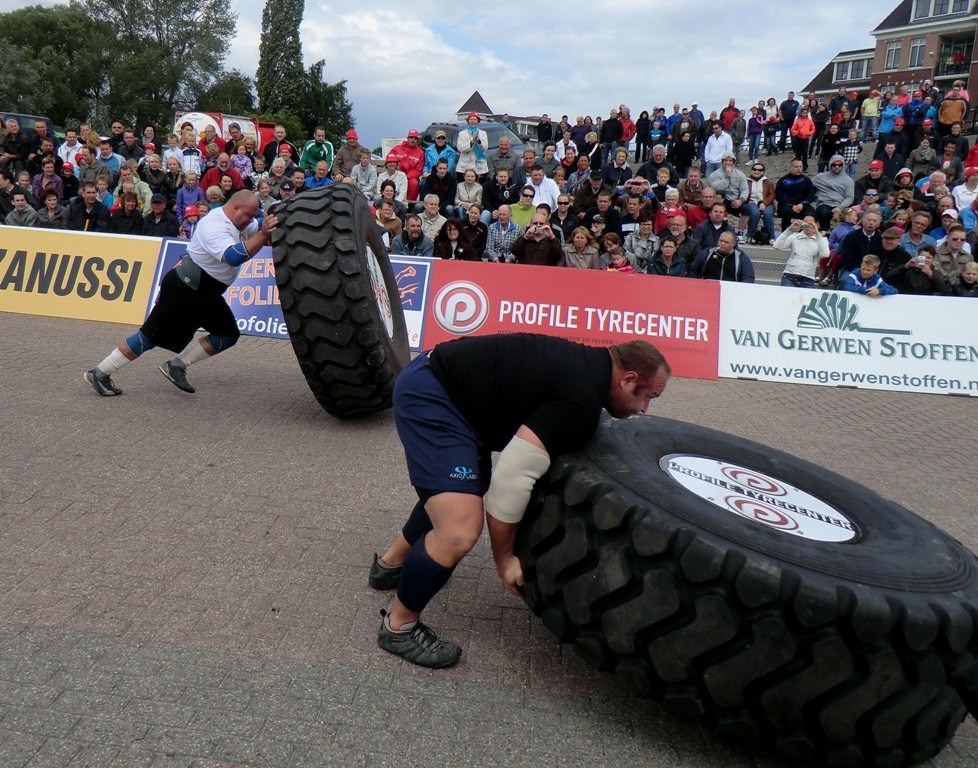 Smile when you say "Nice Dutch weather" because at least for Strongman Champions League – Holland that meant sun mixed with wind, a thunderstorm and rain, the same sort of dramatic back and forth that has pitted Laurence Shahlaei and Ervin Katona in a tug of war as the SCL season Econtinues.Etienne Smit (bottom) and Konstiantyn Ilin (top) race in the Tire Flip. IronMind® | Courtesy of SCL.
"It was a fantastic close finish in the rain and sun in Holland last weekend," Marcel Mostert reported to IronMind: "Laurence Shahlaei and Ervin Katona ended up with equal points in the Strongman Champions League Holland, but Laurence had more wins, so he took the overall win and 25 champions league points, which brought him to second place in the ranking over 6 stages so far. Ervin Katona remains as the overall leader in the orange Monster Milk leader's shirt. "Especially the last event, the anchor drag, was full of nice drama. In the rain, with a slippery surface and handles, Jimmy Laureys from Belgium defeated Johannes Arsjo in the last event and took over third place overall from Johannes. And also the first and second place was still at stake here.
"It was typical Dutch weather with hard wind, nice sun, but also rain and thunder came along. The SCL Holland, powered by Monster Milk, was a real fight in heavy circumstances ,but ended in a sunny and warm price giving in the evening."The 14 competitors came up in a spectacular "Miami Vice" opening (athletes came into the arena through the big "RIJN canal" on 3 powerful boats from Shipyard "De Hoop") with sunglasses in the rain and music from the series "Miami Vice". Show and entertainment made it complete! The crowd loved it!
"This was already the 6th stage from Strongman Champions League 2011. The third stage, SCL Serbia will be broadcasted at coming Friday, 20.00 hours. Check also all our broadcast dates for 2011 at our website," Mostert said.
Here are the top ten overall from SCL Holland:
Laurence Shahlaei / Iran

67.5

Ervin Katona / Serbia

67.5

Jimmy Laureys / Belgium

54.5

Johannes Arsjo / Sweden

49.5

Agris Kazelniks / Latvia

46.0

Warrick Brant / Australia

45.0

Konstiantyn Ilin / Ukraine

42.0

Alex Moonen / Holland

41.5

Rick v/d Torre / Holland

37.5

Martin Wildauer / Austria

35.5
And here are the top five* overall in 2011 SCL season tour to date:
Ervin Katona

85

Laurence Shahlaei

68

Zydrunas Savickas

50

Johannes Arsjo

49

Jimmy Laureys

40
*The top five from SCL will be invited to WSM, Mostert told IronMind.
by Randall J. Strossen, Ph.D. | ©2011 IronMind