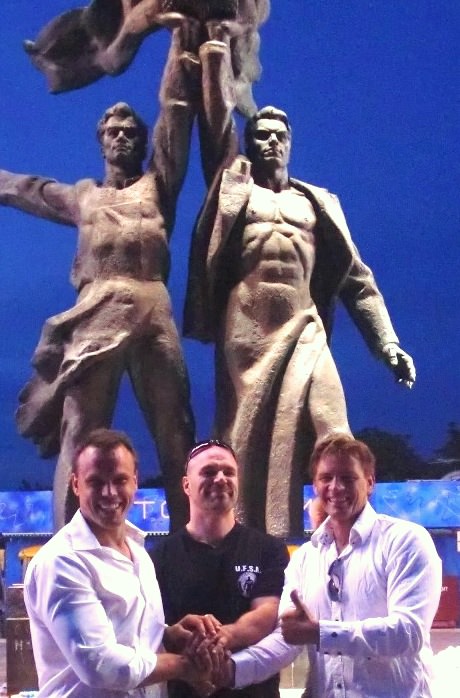 (Photo left to right) Colin Bryce (Giants Live/Power Productions) hooks up with Ilkka Kinnunen (SCL) and Marcel Mostert (SCL)
"On August 13th, as a part of a Power Truck Show, the men behind the Strongman Champions League, Ilka [Kinnunen] and Marcel [Mostert], are helping me to create the first Giants Live: The World Strongest Man Qualifying show in Finland," Colin Bryce told IronMind. Giants Live—the official qualifying tour of the World's Strongest Man show—is coming to Finland, thanks to a collaborative agreement with Strongman Champions League (SCL).
"We will be looking to do a one day, six-discipline competition in front of a very big crowd. There will no doubt be a lot of Scandinavians on the list as we hope to unturn some more talent from the part of the World that gave us Jouko Ahola, Janne Virtanen, Svend Karlsen, Magnus Samuelsson, to name but a few. Almost certainly invites will go out to other parts of Europe and potentially the States, too."The possible Finns looking likely to gain qualification through there recent results and past successes include Tomi Lotta, Pedro Karlsson, and Juha Matti Jarvi.
"The top three from this Giants Live will be qualified to the World Strongest Man show. The entire TV production will be co-produced by Fitness Media of Finland and Power Productions UK for a Eurosport broadcast sometime in September/October," said Bryce.
Lithuania Sweeps Log Lift World Championships
by Randall J. Strossen, Ph.D. | ©2011 IronMind