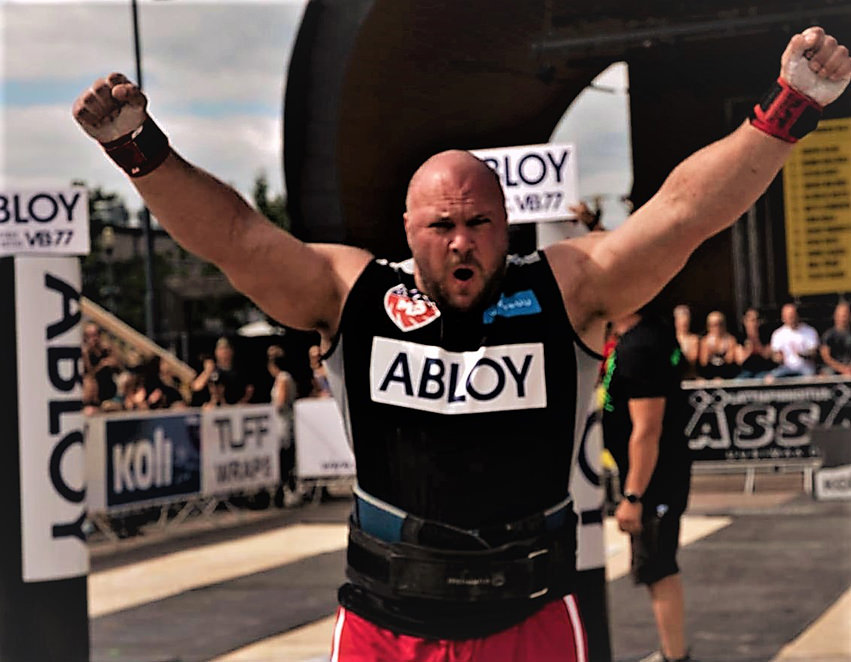 The "Titan"is back.
With a slow start but a good ending, the Latvian double ex-Worldchampion won from the current Worldchampion Aivars Smaukstelis by just 1 point.
Last year Aivars also got a second place here in the SCL Finland. Winner then was Mateusz Kieliszkowski from Poland.
The third place this year went to Ervin Toots, one of the best newcomers in the SCL at the moment.
It was a heavy competition, 8 events in less than 5 hours. Despite the Corona restrictions, there was a great crowd to applause the strongmen and to push them to the limits. We look forward to go to the next stage of the MLO Strongman Champions League and keep you informed with more results.
Results and Ranking SCL FINLAND 2020
Dainis Zageris (LVA)

25 points

– Winner
Aivars Smaukstelis (LVA)

18

Ervin Toots (EST)

15

Sean O´Hagan (IRL)

12

Mika Törrö (FIN)

10

Kelvin De Ruiter (NLD)

8

Sami Ahola (FIN)

6

Matti Lehikoinen (FIN)

5

Dennis Kohlruss (GER)

4

Stefan Sekej (NOR)

3

Anders Aslak (DEN)

2

Jarkko Malinen (FIN)

1
TOP 15 SCL RANKING 2020 after 3 stages:
Sean O'Hagan (Ireland)

37 points

Aivars Smaukstelis (Latvia)

36

Mika Törrö (Finland)

25

Dainis Zageris (Latvia)

25

Ervin Toots (Estonia)

15,5

Kelvin De Ruiter (Holland)

12

Ole Martin Kristiansen (Norway)

12

Stefan Sölvi Petursson (Iceland)

10

Jonathan Cotton (USA)

8

Johan Espenkrona (Sweden)

6

Sami Ahola (Finland)

6

Stefan Sekej (Norway)

5

Matti Lehikoinen (Finland)

5

Odd Inge Kvernberg (Norway)

5

Dennis Kohlruss (Germany)

4