Great Britain's mighty Terry Hollands, a former rugby player turned strongman, was crowned the 2010 Strongman Champions League (SCL) overall winner this weekend in Kiev. Terry Hollands (center) won the overall 2010 Strongman Champions League title. Misha Koklyaev (left) was third and Ervin Katona (right) was second. IronMind® | Photo courtesy of SCL.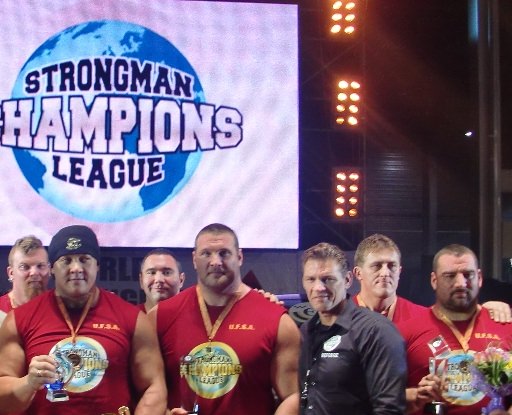 As if the contest itself didn't pose sufficient challenges, the winter storms sweeping across Europe only added to the demands put on the athletes and organizers, alike.
"The (conditions for getting) to Kiev last weekend were really bad because of the weather," SCL cofounder Marcel Mostert reported to IronMind.  "Lots of snow all over Europe (left) athletes stuck at airports in various cities in Europe. Unfortunately, some athletes couldn't make it on time, like Travis Ortmayer who got (stranded) at the airport – A real pity for him as he was standing in third place overall in the Champions League."
So we started with 9 athletes total, with Zydrunas Savickas, not as competitor today, but helping as a speaker and pleasing the crowd.
"The SCL Ukraine was won by Sergei Romanchuk from the Ukraine, followed by Agris Kazelniks on second place and Misha Koklyaev 3th." Misha was leading the whole contest, but lost it in the fourth event, the Conan's Wheel completely, as he got dizzy and stopped the 350-kg wheel already after 10 meters.
"This opened the chances for Romanchuk, Agris and Terry Hollands to take the Ukrainian SCL title. Romanchuk grabbed the title because of his outstanding good performance after six events. Terry Hollands took fifth place, but had enough points to win the overall title and got crowned as the Strongman Champions League winner 2010."
Kontantin Ilin broke the world record of Derek Poundstone, also set in Kiev in May earlier this year during the Giants Live show. He did an impressive 10 reps with the one arm dumbbell of 95 kg. "It was a long, cold weekend in the Ukraine, but with a great final and and some hot drinks afterwards, we ended with a smile," Mostert said.
Here are the official scores from the SCL-Ukraine:
Sergey Romanchuk (Ukraine) 46.0
Agris Kazelniks (Latvia) 38.5
Mikhail Koklyaev (Russia) 36.5
Konstantin Ilyin (Ukraine) 34.5
Terry Hollands (England) 27.5
Golier Brano (Slovakia) 25.5
Akos Nagi (Hungary) 19
Antti Moruiyaaaavi (Finland) 14
Mostert told IronMind that more than 50 different athletes competed in the Strongman Champions League this year.
Here are the top three, overall:
Terry Hollands (United Kingdom) 132
Ervin Katona (Serbia) 106
Mikhail Koklyaev (Russia) 98
by Randall J. Strossen, Ph.D. | ©2011 IronMind