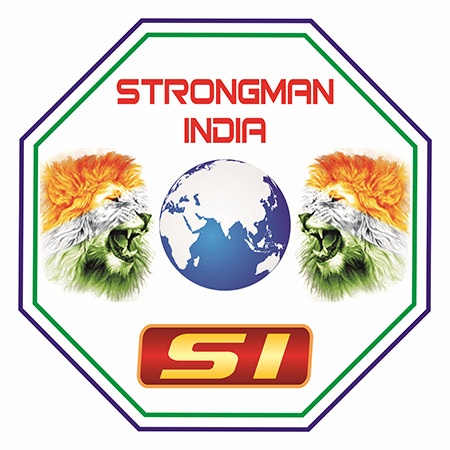 Strongman Champions League (SCL) will be partnering with the newly-formed Strongman India, according to a press release sent to IronMind. IronMind® | Artwork courtesy of SCL/SI
"We are proud to announce that we have signed an agreement with a new strongman organization in India," SCL Director Marcel Mostert reported to IronMind.
India has been so far not involved in strongman. Well, now they are," said Mostert.
Following is the press release sent to IronMind:
"SCL and the new organization in strongman there, Strongman India (SI), are confident that within two years, national and international competitions will be organized.
"CHALLENGE Barbell Present With the Association of S.Kumar Incorporation Creation a Sports team Strongman India. Strongman India will be sanctioned by Strongman Champions League (SCL) and will be the governing body for the sport of professional strongman in the India. "Strongman India provides Indian athletes with opportunities by promoting numerous professional strongman event across the country throughout the year. These events include state, regional and national competitions. Strongman India also works directly with individual promoters, international representatives and Strongman Champions League worldwide to ensure that Indian athletes have opportunities abroad as well.
"Strongman India has developed the first ever amateur-to-professional strongman sports program with Strongman Champions League (SCL). This relationship allows young athletes the time to mature in the amateur ranks while having the opportunity to compete in strongman and Strongman India sanctioned events and earn their professional status. Strongman India also exhorts the growth of strongman game in the district level international level by SCL membership countries as they develop amateur-to-professional systems of their own. Strongman India will host the annual STRONGMAN CHALLENGE CLASSIC and recognized Players will join SCL World game.
"The president and founder of this association is Sanjit Paul, who was engaged in Strength Sports business, powerlifting and weightlifting last few decades, is very happy with the new cooperation in Strongman and particularly with SCL.
Rajeev Charak Chairman of the Event Organize, is a former player of national weightlifting, National power lifting & bodybuilding, Former Vice president of North India body building & Fitness Association.
"Arjun Gulati, responsible for the Technical & Event Organising was a national Gold medalist in Weightlifting Sports Forest game, National Record Holder Bench Press Championship, Gold Medalist of National Power lifting Championship."
Mostert added: "Check out their new website for more info at: www.strongmanindia.com
"We welcome India for a great step into their strongman future. Soon we will do the MHP Strongman Champions League INDIA.".
by Randall J. Strossen, Ph.D. | ©2015 IronMind